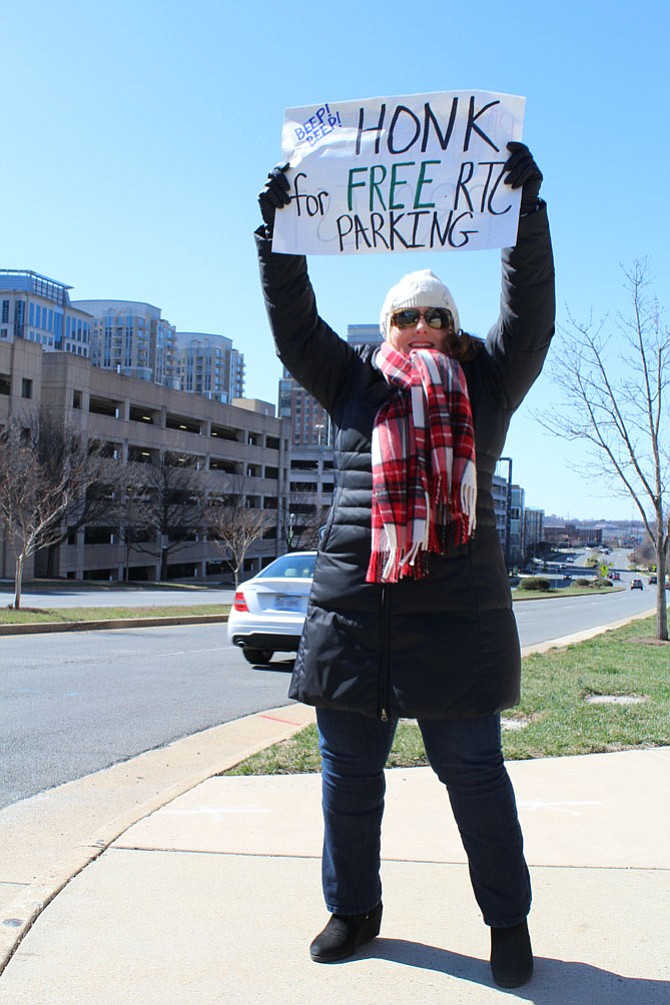 Hundreds of people opposed Reston Town Center's new paid parking scheme on Saturday, March 4, by marching in a "Park Free RTC" protest march.
Cold winds didn't deter the crowd — estimated at up to 500 people — from marching around the town center's grounds for nearly two hours.
The marchers made circles on New Dominion Parkway and Town Center Parkway, carefully avoiding town center property, which is privately-owned. Each time the crowds neared intersections to the town center property, they were met with uniformed and plain-clothes town center security guards.
While Reston Town Center was naturally unwelcoming to the marchers, many drivers passing by the crowds honked their horns in showings of support. Even drivers at streetlights cheered marchers on as their long lines momentarily blocked traffic at intersections.
The assembly of protesters have specific demands for Boston Properties, which owns and manages the buildings in the town center.
They have asked Boston Properties to reduce the hourly parking rates or give patrons the first hour or two free, according to Kim Reinbold, who helped organize the protest march. She said she and other organizers would also like to see parking free after 5 p.m. on weekdays.
MANY OF THE PROTESTERS, especially older participants wielding flip phones, also despise the ParkRTC smartphone app that is used to pay for parking sessions.
"We want to bring awareness to Boston Properties that the plans they implemented are too expensive and not user-friendly," said Maria Lam, who helped organize the protest march. "People are boycotting and we don't want to see it turn into a ghost town."
Paid parking will remain at the Reston Town Center, despite protesters' vocal opposition.
Kathy Walsh, spokesperson for Boston Properties, issued this statement to the Connection on the day of the protest march:
"Boston Properties remains committed to this paid parking model which they believe meets the objectives outlined for paid parking:
protecting the rights of RTC tenants and visitors who patronize the center;

enhancing the parking experience of those tenants, visitors and patrons; and

augmenting the Boston Properties revenue dedicated to reinvestment in the Reston community through improved facilities for the general public, family-oriented events, best-in-class retail, innovative technologies and nonprofit donations."
Yet, Boston Properties may be open to the idea of adjustments.
"While paid parking has only been active for a relatively short period of time, Boston Properties will continue to evaluate operating and business impacts, and pledges to assess input and make modifications to the systems and its processes, as necessary," Walsh said.
MERCHANTS, who say the parking fees have driven away business, are not holding their breath. Opposing merchants have organized under the Reston Merchants Association and have hired the Fay Law Group to look into their lease contracts with the town center.
"We're not going to stop as merchants fighting this thing," said Aaron Gordon of Gordon Food Group and the proprietor of the Red Velvet Cupcakery in the town center. "I have two years to fight this and I'm not going away."
While Gordon's Red Velvet Cupcakery has two years left on its lease at the town center, he said Boston Properties does not care about how its paid parking fees impact the town center's small businesses.
"Either they're so brutally naïve that this many people would boycott, or they've got so much money that they don't care and will let companies die because they can find replacements," he said.
On Saturday, Gordon led protesters to his cupcakery for a "cookie crawl," despite security guards' insistence that they were not allowed to enter the town center while holding their protest signs.
Without any scuffles, marchers ignored warnings and continued to follow Gordon down Library Street and onto Democracy Drive where they ate free cookies and were encouraged to support local businesses at the town center by staying for drinks and special happy hours.