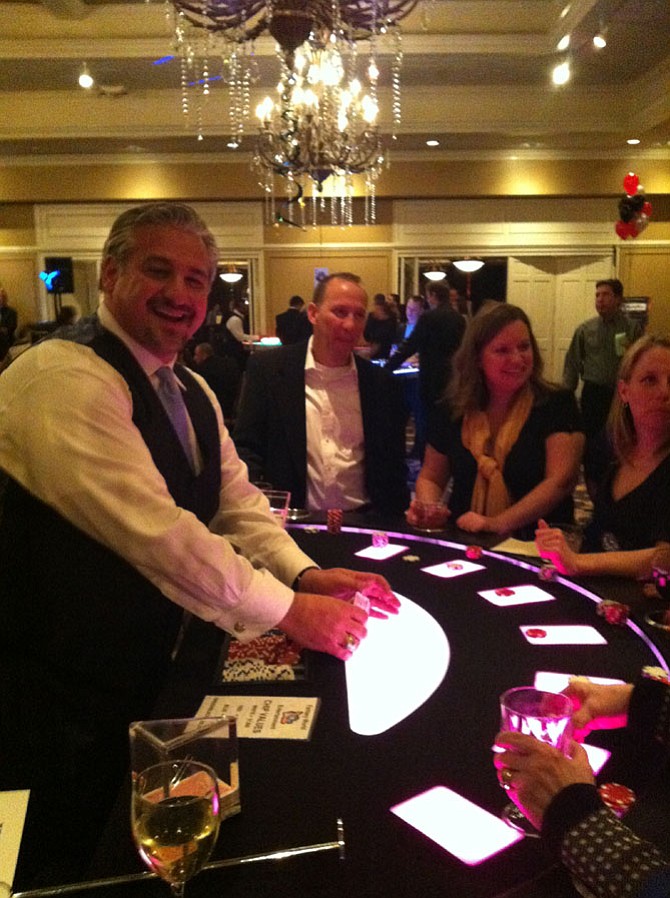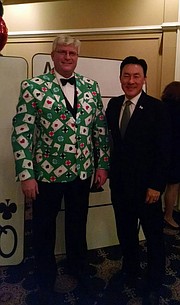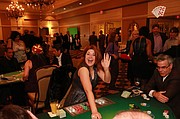 Are ya' feeling lucky?
If Monte Carlo is not on your travel horizon this summer, you still have an opportunity to try your luck in an elegant atmosphere focusing on gaming and foods of the world — right here in Vienna.
The Rotary Club of Vienna hosts its annual Casino Night and Taste of the World on Saturday, March 11, 7-11 p.m. The festive ambiance of a colorful and sophisticated casino takes over the ballroom of Westwood Country Club for one evening.
"This is an opportunity to bring the community together to celebrate being a small town in a big city," said Vienna Rotary public relations committee co-chair, Cristin Etheredge. "What makes this event special is the heart-felt sense of community. People who come to Casino Night incorporate our motto, 'service above self.'"
When the Tysons Chamber of Commerce passed the casino-night torch on to Vienna Rotary, the humanitarian service club — most well-known for ViVa! Vienna! — embraced the community outreach as both a community social event as well as a fundraising tool. Rotary returns to the local community about 90 percent of its net proceeds from ViVa! Vienna! in the form of weekly check distributions.
"All year long, Rotary supports the community," said PR co-chair Jody Scholes. "This is an opportunity for the community to support the Rotary which, in turn, continues to support the community."
Etheredge and Scholes note that there is great value in the ticket price, from valet parking and gaming "cash" to global cuisine and gaming tables. Casino Night is an opportunity to network, and, to rekindle old friendships. It is, also, as Scholes says, an opportunity to dress up, to elegantly present one's self. "A friend told me, 'oh, my goodness, this sounds like so much fun because my friends and I are looking for an opportunity to pull out our nice dresses and pretend we're in Monte Carlo for the night.'"
Taste of the World features unlimited culinary sampling from some of the local area's most prominent restaurants, including Bazin's on Church, Clarity, Earl's, Eddie V's, Founding Farmers, Caboose Brewery, Paddy Barry's Irish Pub, Vienna Inn, and Seasons 52.
The combination gaming-and-food night features signature dishes from the area's popular restaurants and a variety of popular gaming tables, as well as a Wheel of Fortune game of chance. Buy raffle tickets or bid on silent-auction donations.
Raffle and auction prizes range from vacations and hotel accommodations to golf outings, local professional-sports tickets, as well as gift certificates to Vienna-area restaurants and gift baskets and services.
"The people coming already want to support Rotary," said Scholes. "They like the excuse to write out a check to us."
Individual tickets purchased in advance are $85 per person; use EARLYBIRD promo code to receive the $85 PP ticket price. Tickets include unlimited food samples, one drink ticket, $25,000 in gaming cash, and 20 raffle tickets to bid as you please.
At the door, walk-up tickets are $95 per person; a couple is $180. To buy tickets at the promotional price, go to www.ViennaCasinoNight.com or call 703-981-4911. Westwood Country Club is at 800 Maple Ave. East.
For more information, go to www.ViennaCasinoNight.com