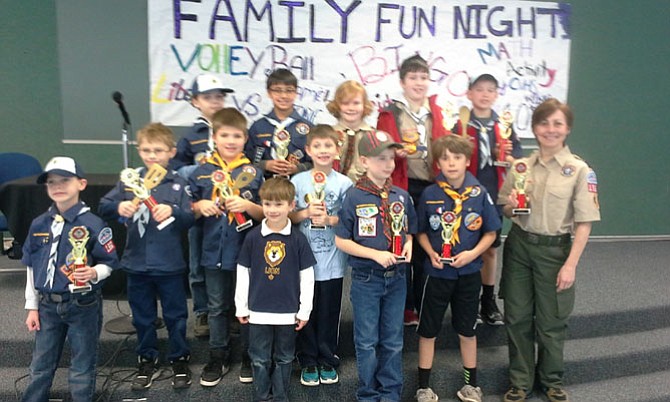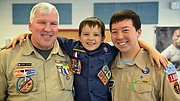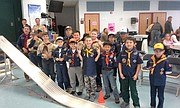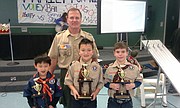 Cub Scouts from the Centreville/Chantilly/Clifton area gathered for the annual Sully District Pinewood Derby and Parent/Son Bake-off competitions on March 4 at Liberty Middle School in Clifton.
Winners from the Pack-level competitions advanced to the District-level event, with 109 Cub Scouts from 17 Cub Scout Packs participating in the Pinewood Derby and 34 Cub Scouts from seven Packs participating in the Parent/Son Bakeoff Competition.

Leaders from Pack 127 and Pack 1859 provided racetracks and volunteers for the Pinewood Derby races. Trophies for the top three finishers were awarded for each rank level and for the overall district championship race. Also, for each rank in the Pinewood Derby a "Coolest Car" certificate was awarded by Explorer Post 6500, an Automotive Post sponsored by 29 Diner. The Post also provided refreshments by running the concession stand.
For the Bake-off Competition, trophies were awarded for the top three winners in each of the five bake-off categories: Breads, cakes, pies, cookies, and decorative/creative. Hondo Davids, Sully District chairman, thanked David Weisz who oversaw the event and Jenni Davids for leading the Bake Off event and to all the parent volunteers.
Pinewood Derby Trophy Winners
Tigers:
1st: Zachary Gercken, Pack 1459
2nd: Brandon Choi, Pack 1133
3rd, Emory Evans, Pack 1863
Coolest Car – Connor Newland
Wolves:
1st: Michael Marques, Pack 1514
2nd: Ben Magenheimer, Pack 1860
3rd: Terrence McLellan, Pack 146
Coolest Car – James Kilmer
Bears:
1st: Evan Lawson, Pack 1860
2nd: Gabriel Jakubek, Pack 146
3rd: Hayden Bosilovic, Pack 127
Coolest Car – Benjamin Crown
Webelos:
1st: Matthew Courtemanche, Pack 127
2nd: Jonathan Mason, Pack 1858
3rd: Gregory Spinner, Pack 1861
Coolest Car – Jonathan Mason
Arrow of Light:
1st: Joey Magenheimer, Pack 1860
2nd: Patrick Lakie, Pack 127
3rd: James Exley, Pack 1863
Coolest Car – James Torres
Overall Sully District Championship Race:
1st: Brandon Choi, Pack 1133
2nd: Matthew Courtemanche, Pack 127
3rd: Jonathan Mason, Pack 1858