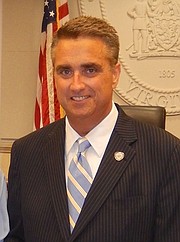 "I'm just heartbroken; he's a good person." — Katie Hayes, Silverthorne's niece
Nobody saw it coming – not his friends and family, not his attorney and especially not him.
When former Fairfax City Mayor Scott Silverthorne entered courtroom 5E Monday morning in Fairfax County Circuit Court, it was to plead guilty to a drug charge and leave. After all, he'd been free on personal recognizance since his arrest last August, has diligently appeared for all his court dates and was quietly putting his life back together, out of the public eye.
His attorney had told him a pre-sentencing report would take six to eight weeks. So just before walking inside the courtroom, he was trying to calculate when he'd have to return for sentencing. And if the roads were safe enough to travel after the impending snowstorm, he planned to return to his job in Maryland later that week.
But Judge Grace Carroll had other ideas. Although the prosecution didn't ask to have Silverthorne jailed until his sentencing date, the judge had him taken into custody then and there – to the horror of his friends and loved ones who were in the courtroom to support him. And since her first available sentencing date is June 9, he'll be incarcerated for three months before he returns to court.
"I'm shocked," said his niece, Katie Hayes, afterward, tears in her eyes. "I wish I could have been prepared for what was going to happen today. June 9 is a long time [from now]. I'm just heartbroken; he's a good person."
Indeed, Silverthorne, 51, has spent most of his adult life in public service to his hometown, the City of Fairfax. He served 18 consecutive years on City Council and, in May 2016, was reelected to his third, two-year term as mayor. But that August, it all unraveled. Caught in a police sting, he was arrested for selling crystal meth to an undercover detective who he was led to believe would participate in group sex with him and other men in exchange for the drug.
ON MONDAY, MARCH 13, Silverthorne entered his plea, and Carroll then asked him several questions, making sure he was pleading guilty "freely and voluntarily and because you are, in fact, guilty of this charge?" She also asked if he understood that, by doing so, he was giving up his rights to a trial, to appeal his conviction and to vote – and that she could imprison him for as much as 40 years – and he answered affirmatively to everything.
Assistant Commonwealth's Attorney Kathleen Bilton then presented what the prosecution's evidence would have been, had this case gone to trial. She said that, in July 2016, Fairfax County police detectives received information that Silverthorne was using a particular Website to meet other gay men for meth-fueled, group sexual encounters. So an undercover detective sent an alert to that site and set up a profile to tempt him with the types of activities he was seeking.
Using a sexually suggestive screen name, said Bilton, Silverthorne responded with "What's up?" She said he asked "what the detective was into and if he had any supply. They exchanged texts over a week, and the defendant said he'd arrange for a supply of drugs and [group sex]. He said he'd bring $200 worth of meth, but that he only needed to use a little bit."
She said the detective told Silverthorne he'd get a hotel room and bring another man with him, and Silverthorne said he'd bring two people with him. And on the evening of Aug. 4, two undercover detectives met Silverthorne at the Crowne Plaza Hotel in Tysons Corner.
"The detectives each gave the defendant $100 in county 'buy funds' and observed him meeting two friends and going inside the hotel with them," said Bilton. "When the defendant returned to the detectives, the defendant handed a bag with crystal meth to the detective." Police then arrested all three men, charging them with meth distribution.
When Bilton finished speaking, the judge accepted Silverthorne's plea and found him guilty as charged. Then, after defense attorney Brian Drummond requested a pre-sentencing report be done and Bilton made no motion regarding Silverthorne's bond, Drummond spoke on his client's behalf, explaining why Silverthorne should be allowed to remain free until his sentencing.
"He's a lifelong resident of Fairfax, is gainfully employed, has been totally cooperative, poses no risk to the community, is not a flight risk and has absolutely no criminal record," said Drummond. He also said the state sentencing guidelines for this case range from seven months to one year, four months, and that Silverthorne is recommended instead for alternative punishment and probation.
But Carroll had the last word. In a move that stunned both Silverthorne and his attorney, she said, "Because of the fact that this is a distribution, the court is going to revoke his bond. He's remanded to the custody of the sheriff." Bailiffs then handcuffed him and led him to jail.
AFTERWARD, outside the courtroom, Drummond said, "I'm sure he's upset." As for the judge's action, he said, "I'm extremely surprised she'd incarcerate him today, given that the Commonwealth didn't ask for it and he's been out on personal recognizance. I didn't see that coming. But I respect her as a judge and her opinion on this matter."
He said he and Silverthorne decided on a plea, rather than a trial, because "The evidence [against him] was clear and he had the expectation of using some of the meth. But up until today, he's done everything in his power to rehabilitate himself and stay a contributing member of the community."
Drummond hopes Silverthorne will receive probation in June, instead of further jail time, especially "after the judge reads my sentencing memorandum and sees what kind of person he is. The distribution statute is very broad. At one end of the yardstick are people who manufacture and distribute meth for profit, and at the other end is Scott – who was set up for a 2-gram buy that, ultimately, he was talked into doing."