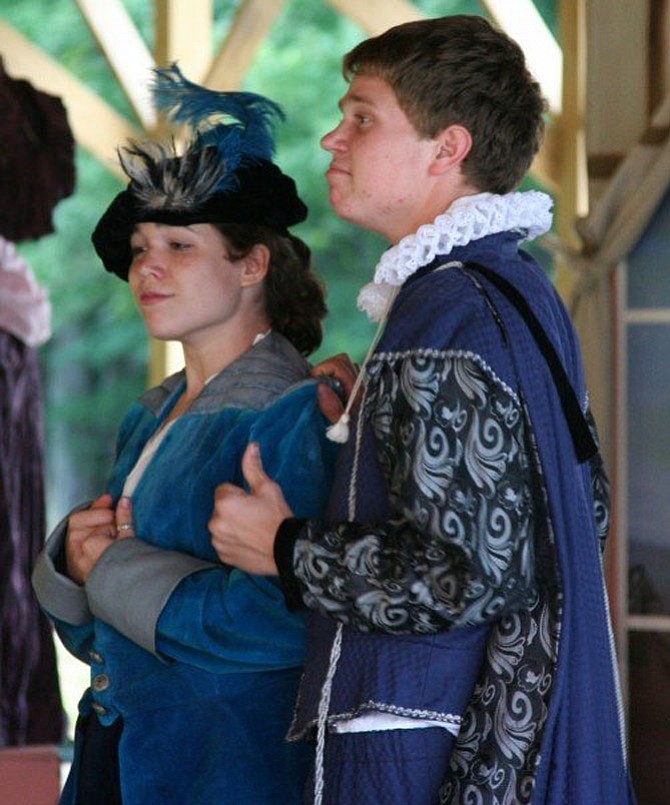 Traveling Players Ensemble celebrates strong and difficult women with its "Uppity Women Festival," a double bill of "The Wizard of Oz" and "The Taming of the Shrew" at The Madeira School's Chapel Auditorium on Sunday, March 19 at 3 p.m.
Featuring the talents of Traveling Players' winter performance classes, this pairing of classic plays explores the collision of powerful female archetypes, from the innocent to the vitriolic.
In "The Wizard of Oz," adapted by Erin Detrick from the classic book by L. Frank Baum, Dorothy and her ragtag companions face off against the Wicked Witch of the West. Presented by the middle school performance class, the play features the talents of Catie Barrie (Vienna), Brett Beale (Arlington), Kassi Elliott (Sterling), Sophie Ellison (University Park, Md.), Daisy Hamilton (Arlington), Isabella Jackson (Fairfax), Faith Kim (Fairfax), Charlotte Knight (Arlington), Emma Sakura Lavallee (Dunn Loring), Isaac Martin (Arlington), Alexander Vann (McLean), Paul Weaver (Falls Church), Audrey Zecca (McLean), and Cat Zolandz (Arlington). Directed by Jessica Rodriguez-Snellings.
Shakespeare's "Taming of the Shrew" features scintillating wit, bawdy wordplay, and a full-scale slapstick battle of the sexes as all of Mantua conspires to tame the fiery Kate — all so that her younger sister can get married. Featuring the talents of Anne Callaway (Herndon), Brian Conner (Fairfax), Katie Elliott (Sterling), Maereg Gebretekle (Silver Spring, Md.), Mary Kate Gould (Great Falls), Jeeho Ha (McLean), Allison Kinney (Reston), Elena Morey (Fairfax Station), Zoe Porterfield (Warrenton, Va.), Zophia Pryzby (Reston), Kerstin Shimkin (Alexandria), Harry Stevens (Arlington), Eli Wassertzug (Falls Church), and Jeremy Wenick (Bethesda, Md). Directed by Jeanne E. Harrison.
Both plays feature set and costume designs by Adalia Vera Tonneyck.
The plays are the culmination of two weekends of touring, during which they have performed at venues throughout the area, including the Maryland Multicultural Youth Center (Riverdale, Md.), Vinson Hall (McLea), Ring House (Rockville, Md.), Emerging Scholars at the Burgundy Farm Country Day School (Alexandria), and the Francis-Stevens Educational Center (Washington, D.C.).
The performances take place in the Chapel Auditorium at The Madeira School, at 8328 Georgetown Pike, McLean.
Tickets are $10 at the door (free to school teachers), and $5 for groups of 10 or more. "Wizard of Oz" begins at 3 p.m., followed by "Taming of the Shrew" at 4 p.m.
For more information, visit www.travelingplayers.org or call 703-987-1712.