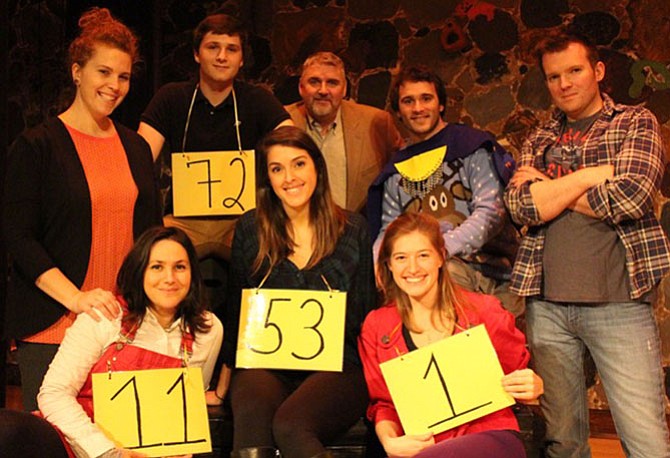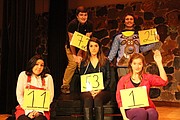 The scene is the Putnam County Middle School where a group of unpredictable adolescent spellers compete in the Spelling Bee Championships, run by three equally idiosyncratic grown-ups. While attempting to spell their way through the challenge, the tweens share humorous, yet touching stories from their home lives, hoping and praying not to be eliminated by the soul-crushing "ding" of the bell.
This funny and heart-warming play will be presented on April 7 and 8 at Alexandria Country Day School by BRAVO Productions – Theatre for Young Adults. After 20 years of producing theater with children, BRAVO is presenting its first production with an adult cast. Executive Producer Laurie levy Issembert said, "I am thrilled to expand our repertoire to include a show with adult performers. We've assembled an incredibly talented cast of veteran actors to bring to life these quirky and lovable characters in a perfect middle school venue."
The production is especially timely since it is being presented while the Scripps National Spelling Bee is taking place. Since 1925, children across America have participated in school, local and regional bees with the singular hope of making it to the Scripps National Spelling Bee in Washington, D.C. This year, 11 million students will join in the experience.
Potomac's Alexander Scott, a senior at Winston Churchill High School will play the role of Chip Tolentino for the second time. He first performed in "The 25th Annual Putnam County Spelling Bee" when he was at Stagedoor Manor summer camp. "I have loved playing the role of Chip for BRAVO Productions," he said. "Working with professional adults feels odd because I've been trained in a pre-professional program, and actual professional theater is much different than I was trained for. People are much nicer and respectful than I expected and they are also very welcoming. The biggest difference between my first production of 'Spelling Bee' at Stagedoor Manor summer camp where I also played Chip and this one is the people, because I built relationships with my previous cast mates, and expect to see my friends when I turn around, but it's actually now a professional actor. I love getting the opportunity to play Chip again with a cast so talented and amazing as this."
Potomac residents have very likely seen Alex performing in local productions or at Winston Churchill High School (WCHS). He has appeared at Imagination Stage, Arena Stage and the Arc theaters. He is also involved in many of the music programs at WCHS where he is a senior. He is a singer, vocal captain and guitarist for the Churchill production "Blast," as well as a creator, arranger and performer for the Pitch Pipes, a male a capella group. He plays guitar in the Honors Jazz Band and is a bass drummer in the drumline. He has also performed in many WCHS drama productions and in Showstoppers. Alex studies classical piano, singing and dancing while attending weekly conversational Portuguese and French classes with his dad. In the summer, he works as a lifeguard at the Inverness Recreation Center Pool.
In addition to serving as the director of "Spelling Bee" and artistic director of BRAVO Productions, Valerie Issembert will perform the role of Olive Ostrovsky, a newcomer to the Bee circuit and an only child who spends much of her time alone reading the dictionary. Issembert previously performed with the Metropolitan Opera Company in New York City. She said, ""This show and this venue presented the perfect opportunity for BRAVO Productions to bridge the gap between theatre with young actors and theatre with adults because Spelling Bee is a show about children, played by adults, and written for all to enjoy. After a decade performing mainly with adults in New York, and a subsequent three years teaching mainly children in Washington, D.C., I wanted to integrate the two worlds. This experience has provided that opportunity. I get to work with my friends, colleagues, family, and students. What more could I ask for?"
"The 25th Annual Putnam County Spelling Bee" will be performed in Alexandria Country Day School's Performing Arts Center, 2400 Russell Road, Alexandria, VA 22301 on April 7 at 8 p.m. and April 8 at 2 p.m. and 8 p.m. Tickets are available online at www.showtix4u.com for $28 until April 6 for $30 (cash or check only) at the door.