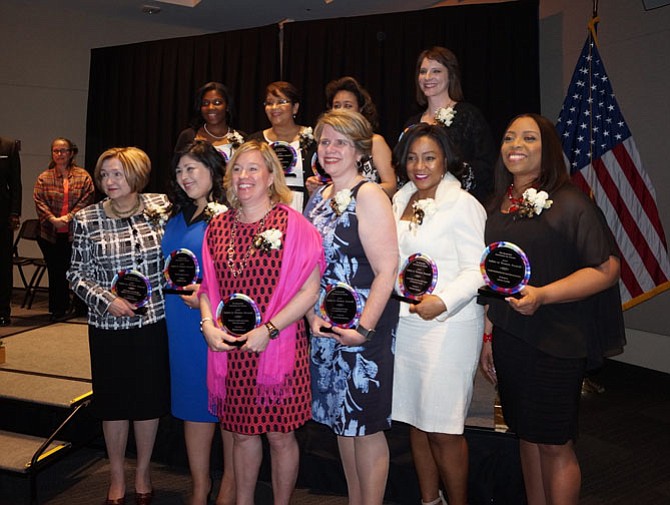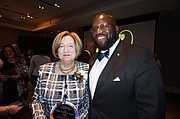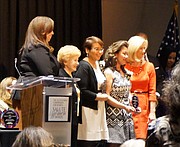 It was standing room only as more than 225 attendees celebrated The Alexandria Commission for Women's 37th Annual Salute to Women Awards March 20 at the U.S. Patent and Trademark Office.
The commission recognized 10 women for their civic accomplishments and the improvements they have brought to the well-being of Alexandria's women and girls. The awards represent achievement in a range of private and governmental pursuits, including: arts, business, service to youth, public policy, health and safety, public service and civic leadership.
The 2017 honorees are: Patricia Paxton – Leadership in Business and Career Development Award; Yolanda Carrasco and Mildred Rivera – Making a Difference Award; Kendallee Walker – Youth Community Services Award (youth); LaVon Curtis – Youth Community Services Award (adult); Martha Carucci – Women's Health and Safety Advocate Award; Laurie MacNamara – The Marguerite Payez Leadership Award; Lisa Smith – The Donna Bergheim Cultural Affairs Award; Lisette Torres – The Vola Lawson Award; and Dorothea Peters – The Susan Lowell Butler Lifetime Achievement Award.
"It is especially meaningful to receive the Susan Lowell Butler Award," said Peters of the Lifetime Achievement Award. "I knew Susan and saw the difference she made to this community. It is very special to receive an award that is named in her honor."
Proceeds from the event will support the Sexual Assault Center and the Domestic Violence Program. For more information or to learn about volunteer opportunities with the commission, visit www.alexwomen.com.