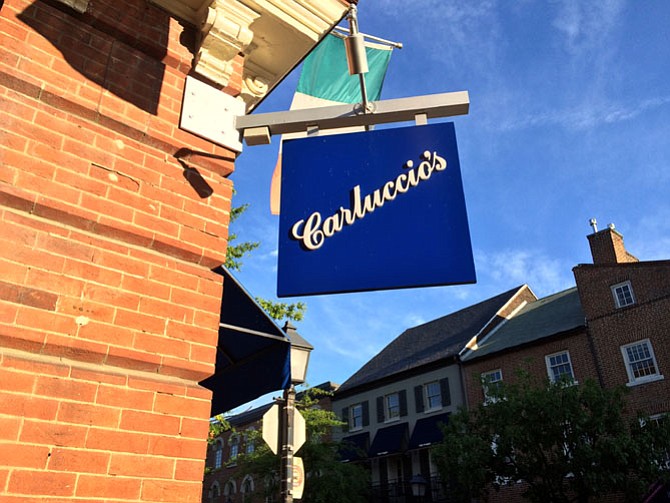 As the weather warms up, restaurants' patios, porches, and sidewalks find themselves dotted with tables and chairs just waiting for visitors. Here are three can't-miss locations for dining outside.
Lena's Wood-Fired Pizza and Tap, 401 E. Braddock Road
Lena's patio is quickly becoming one of Alexandria's most popular spots for outdoor dining, and for good reason. Though the pizzeria is on a busy corner, the patio feels secluded, private, without being isolated. Want to make friends? Sit at the fire pit and strike up a conversation with your neighbors. Or choose a table for two and enjoy a date night. If the temperature drops when the sun goes down, don't fret; the restaurant will fire up some outdoor heaters and hand out blankets to keep your legs warm.
While you're out there, best to enjoy some food. You'd be crazy not to order the polenta fries to share; the polenta-parmesan sticks have a salty-savory taste that will leave you scooping up every crumb. On to the main course: The prosciutto and arugula pizza offers up slices of meat accompanied with the peppery tang of greens; the mushroom pizza highlights wild mushrooms with a creamy garlic sauce and truffle oil to top it off.
Carluccio's, 100 King St.
Though it's true that Carluccio's indoor space is also quite nice, the Italian eatery's outdoor seating is the perfect place to people-watch. Its sidewalk location puts visitors in the heat of the action near the King Street waterfront, and there's always something interesting to see as tourist and neighbors alike amble by.
Order a glass of wine and peruse the menu. Olive lovers will enjoy the giant variety offered as a starter; bruschetta is also a great choice. For a main course, the penne giardiniera — penne pasta with fried spinach balls and zucchini — is an unusual and hearty choice. Or consider the risotto del giorno; you'll be happy with whichever of the rice dish varieties is on the docket for the day.
Taqueria el Poblano, 2400-B Mount Vernon Ave.
The front patio at Del Ray's Taqueria el Poblano could be compared to a postage stamp in size, but it's highly coveted real estate in Alexandria's Mexican-dining circles. It's worth the sometimes-lengthy wait to snag one of the half-dozen or so tables on the patio; there's nothing quite like feeling the spring breeze while sipping your margarita, after all.
While you enjoy that frosty beverage, peruse the menu and spy a couple of favorites right off the bat. The chile relleno, a poblano pepper stuffed with cheese and topped with ranchero sauce, is a winner no matter your mood. Or order one of the taqueria's burritos — options include bean and cheese, green-chile pork, beef, and more — and expect to be full for hours.
Hope Nelson owns and operates the Kitchen Recessionista blog, located at www.kitchenrecessionista.com. Email her any time at hope@kitchenrecessionista.com.