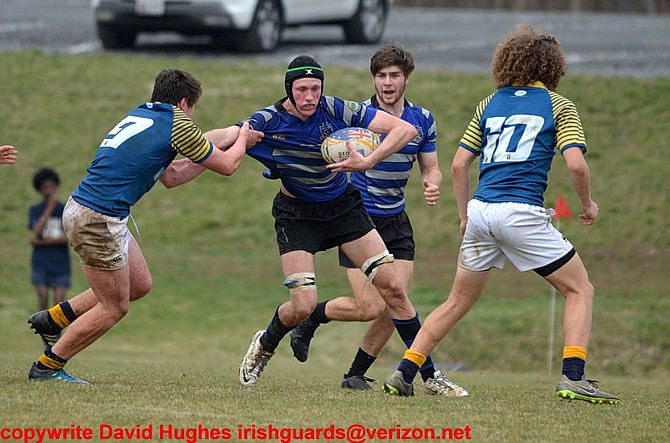 The Fort Hunt Warriors boys high school rugby team has been invited to the 2017 National High School Rugby Championship tournament, to be held in Kansas City, Mo. from May 17 to 22. This is the second invitation for the Warriors, who declined their first-ever invitation in 2016 due to a late invitation and previously scheduled commitments. This is also the first Fort Hunt Youth Athletic Association (FHYAA) team in the association's 58-year history to compete for a national championship.
With recent wins over the nationally ranked teams of Georgetown Prep (Md.), West Shore United (Pa.), Doylestown (Pa,), and most recently Gonzaga (2016 national champion), the Warriors are currently ranked as the #1 boys high school club team in the nation, moving up from a #3 position held since early February.
Rugby as an FHYAA sport has been a part of the Fort Hunt athletic scene since 2006, and the high school rugby program began for both boys and girls in 2011. In that time the Warriors have managed three Virginia state championships (2012, 2014, 2016). The Warriors also have placed numerous players on the Rugby Virginia all-star team over the years, as well as past and current selections to U.S. national teams.
"We have always been a strong and focused team, and I'm thrilled to see the boys' hard work and dedication pay off," Warriors Coach Dale Roach said.
Fort Hunt Rugby President John Dacey said, "This is something you think about, almost a fantasy, but for it to be real is absolutely incredible. We are extremely grateful to all of the players, parents, coaches and volunteers who have built and sustain our program, and to FHYAA, which has supported us wonderfully in our years of providing youth rugby to our community."
Warriors player/captain and national U-20 player Conor McManus said, "It's a great opportunity, something we've worked really hard for, and I think we have a great shot at winning it."
The tournament in Kansas City is a major team undertaking, and there are some Warriors players who need assistance with their trip expenses. The team has set up a donation page through the Fort Hunt Rugby website at www.forthuntrugby.org. All donations to this effort are fully tax-deductible.