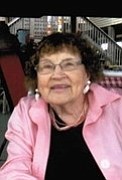 Albina "Kay" Kozonasky, a veteran of the U.S. Army Nursing Corps, died March 25 at Riverview Medical Center in Red Bank, N.J. Her family, including daughter Michele Evans, was by her side. She was 93.
A Texas native, Kozonasky graduated from St. Agnes Academy and St. Joseph's Nursing School (now part of St. Thomas University) in Houston. She served as a lieutenant in the Army Nursing Corps in the 1940s and spent time on assignment in Korea.
Following her marriage to her former husband, the late Michael J. Kozonasky, she lived in New York City, Passaic, Philadelphia and Langhorne, Pa. She has resided in the Fairview section of Middletown, N.J., since 1958.
In the early 1960s she began her career of more than 30 years as a nurse at Riverview Medical Center. She spent many years working nights in the Intensive Care Unit and the Cardiac Care Unit. During the 1980s she attended Jersey City State University and obtained her Bachelor of Science degree. When she retired in 1992 she was serving as a nurse in Riverview's Outpatient Clinic.
Kozonasky was an accomplished gardener, an avid reader and a follower of the stock market. She was a graduate of the Ocean County Master Gardener program and a member of a N.J. Utilities Investment Group. She was not fond of computers and prided herself on hand writing letters and mailing cards to her many friends and relatives. At age 93, she and her Houston childhood friend Hilda Drohan continued to exchange letters on a regular basis to keep in touch about the activities of their friends, children and grandchildren.
Kozonasky was predeceased by her parents, Peter and Caroline Chajkowski; three brothers: Dimitri, Frank and Paul Chajkowski; her foster parents Joseph and Marie Drohan, foster brothers Joseph and William Drohan and daughter-in-law Linda Kozonasky.
In addition to her daughter, Michele Evans of Alexandria, she is survived by sons Christopher Kozonasky of Brick; and Paul (Martha) Kozonasky of Concord, Calif.; grandchildren Caroline (Scott) Bickford and Kate (Andrew) Barnes of Glen Allen, Va.; Paul Kozonasky, Jr. and Mathew Kozonasky of Concord, Calif.; and a great grandson Ambrose Barnes.
Kozonasky was especially close to her sister-in-law and best friend Dorothy Eberhard and her niece Ellen Eberhard Andreas of Middletown. She greatly appreciated the many years of love and support she received from the Eberhard, Kozonasky, Chajkowski and Dolinsky families.
Visitation will be held from 6 to 9 p.m. on Thursday, March 30, at the Thompson Memorial Home at 310 Broad Street, Red Bank, N.J. A funeral service will be held at 11:30 a.m. on Friday, March 31, at the Thompson Memorial Home followed by interment at Fair View Cemetery.
In lieu of flowers, donations may be made to Friends of the Middletown public Library, 55 New Monmouth Road, Middletown, NJ 07748 www.friendsofmtpl.org or The VCU Massey Cancer Center, P.O. Box 980214, Richmond VA 23298-0214. www.support.vcu.edu/give/massey.