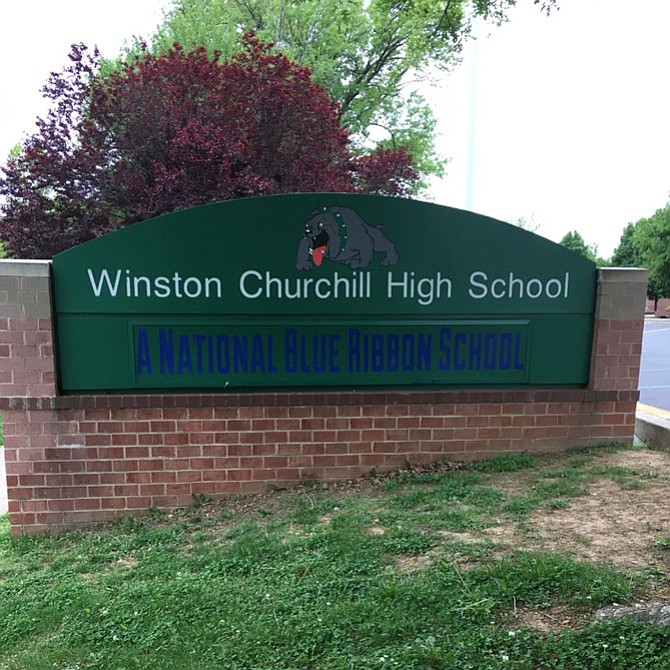 Winston Churchill High School in Potomac was ranked number 75 in the nation out of 22,000 public high schools across the U.S. according to a recent survey published by US News & World Report.
Churchill received the highest ranking of the 25 high schools in Montgomery County, making it number one among Montgomery County Public Schools.
"It's always great news for us when our schools are ranked nationally," said Gboyinde Onijala, MCPS spokesperson. "It shows what we already know, that MCPS has very good schools."
MCPS does not rank its schools, Onijala said.
According to the US News & World Report website www.usnews.com, the news magazine worked with RTI International, a nonprofit research institute, to rate the high schools. They used a four-step evaluation looking at student performance on required state tests in reading and math, how disadvantaged students — black, Hispanic and low-income — compared to those statewide, graduation rates that meet or exceed national standards, and college readiness based on Advanced Placement participation and proportion of students who did well on those tests.
"A state-by-state breakdown of the 2017 Best High School rankings shows that Maryland is the leading performer for the third year in a row," according to the web site. "This state-by-state performance rating is solely based on which states have the largest proportion of their high schools earning gold and silver medals."
Gold medal schools are the top 500 ranked schools, silver medals went to schools ranked number 501 to 2,609 and bronze medals went to 3,432 schools who passed the first three steps in the rankings protocol but "does not offer AP courses or otherwise did not meet the requirements for a silver medal."
MCPS had the top five of the Maryland schools ranked. They are, after Churchill, Thomas S. Wootton High School in Rockville; Poolesville High School; Walter Johnson High School, Bethesda; and Richard Montgomery High School, Rockville.
Also named in the top 20 Maryland high schools were Col. Zadok Magruder High School, Rockville, listed number 13 and Damascus High School, number 19.
Churchill principal, Dr. Joan Benz, did not respond for comment on her school's ranking. She has been principal of Churchill since September 1997.