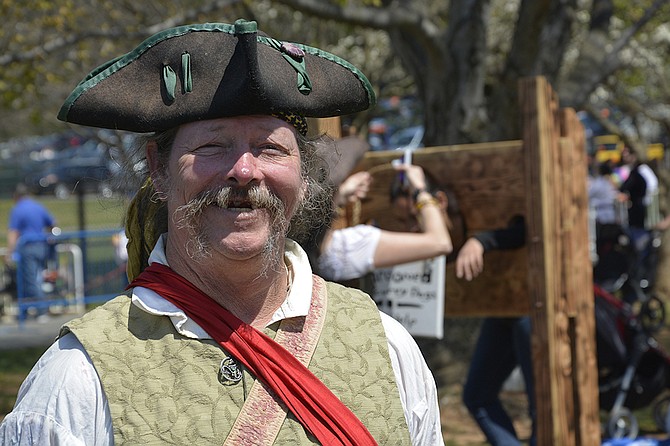 Thursday/May 4
Junior Farmers Day. 4-5 p.m. at Frying Pan Farm Park, 2709 West Ox Road, Herndon. Children and parents will get the chance to go behind the scenes to help farmers with chores such a milking the cows, feeding animals and shelling corn. Learn how busy farm life can be. $7. Call 703-437-9101 or visit www.fairfaxcounty.gov/parks/fryingpanpark/.
Friday/May 5
Bike Event. 6 p.m. at Trailside Park, 1022 Crestview Drive. Life is a Cycle is a group bike ride that teaches where to bike, commute and the need-to-know essentials of biking for transportation. Registration is $1.50 before the event, or $5 the day of the ride. Proceeds are donated to the American Heart Association. Visit www.lifeisacycle.bike. for more.
Free Choral Concerts. 7:30 p.m. at United Christian Parish, 11508 N. Shore Drive, Reston. The programs, co-conducted by Jeanne Kelly and David Lang, will perform a variety of pieces including Les Miserables, Va Pensiero, Porgy and Bess and Do Lord Remember Me. Free for adults 55+. Visit encorecreativity.org, call 301-261-5747 or email info@encorecreativity.org.
Reston Community Players. 8 p.m. at CenterStage, Reston Community Center, 2310 Colts Neck Road, Reston. Last show of the 50th season, is the comedy, "Private Lives" by Noel Coward. Shows at various times through May 20. Visit restonplayers.org for more.
Swing Dance Music. 8:30-midnight at Hilton Washington Dulles Airport, 13869 Park Center Road, Herndon. Rock and romance of the 1950s with Natty Beaux. $15. Call 703-478-2900 for more.
Saturday/May 6
Oak Hill Fun Run. 6-10:30 a.m. Oak Hill Elementary School, 3210 Kinross Circle, Oak Hill. Support the school or earn service hours by running the annual Oak Hill 1K or 5K. Call 703-467-3535 or email OakHillES.Attendance@fcps.edu for more.
Pet Fiesta. 10 a.m.-4 p.m. at Reston Town Center. Pet adoption, pet contests and fashion show, exhibitors of pet resources, pet rescue and non-profit groups. Presented by and benefiting GoodDogz.org. All on-leash pets welcome. Free admission, rain or shine. Visit petfiesta.org for more.
Native Plant Sale. 10 a.m.-2 p.m. at Runnymede Park, 195 Herndon Parkway, Herndon. All plants locally grown, pesticide-free. Sponsored by Friends of Runnymede Park and Herndon Environmental Network. Free. Call 703-437-7451.
Kid's Cooking Class. 11 a.m.-12:30 p.m. at Reston Town Center Pavilion, 11900 Market Street, Reston Town Center. Pizza making cooking class for kids. $18.95, includes pizza, soft drinks and gelato. Email reston@ilfo.com or call 703-437-5544 for more.
Digital Photography Essentials. 1-5 p.m. at ArtSpace Herndon, 750 Center St., Herndon. This introductory class is for people with a digital camera who are interested in learning how to successfully use their camera beyond automatic / program modes. Visit www.artspaceherndon.com or call 703-956-9560 for more.
TEDxHerndon Lecture. 2-6 p.m. at Herndon Middle School, 901 Locust St. The theme of this year's event is "Difficult Conversations." Visit www.tedxherndon.com for more.
Currator's Talk. 4 p.m. at the Greater Reston Arts Center, Reston Town Center, 12001 Market St #103, Reston. Curator Holly McCullough talks on "Radcliffe Bailey: The Great Dismal Swamp." Artworks on view from April 21 through Aug. 18 at George Mason University. Visit www.restontowncenter.com for more.
Derby for Mental Illness. 5-8:30 p.m. at Hidden Creek Country Club, 1711 Clubhouse Drive, Reston. Guests in their Derby attire will watch the 143rd Run for the Roses, eating hors d'oeuvres, sipping mint juleps, bidding on auction items. The event will support PRS' work that helps individuals and families affected by mental illness in the region recover their lives.$150. Visit www.prsinc.org/raising-the-stakes for more.
May 2-June 29
Art Exhibition. 8 a.m.-5 p.m. at U. S. Geological Survey, 12201 Sunrise Valley Drive. Exhibit "H. K. Anne Presents The American Landscape," will be on exhibit at the USGS National Center is a public building, parking is available in the visitor's lot outside the visitor's entrance. Photo ID is required to enter. Visit www.HKAnneFineArt.com for more.
May 6-7
Pirate Fest. 10 a.m.-5 p.m. on Saturday and 11 a.m.-4 p.m. on Sunday at Lake Fairfax Park, 1400 Lake Fairfax Drive, Reston. $10. Swashbucklin,' seafarin' songs, tales of pirates, a Raingutter Regatta, a treasure hunt, and sailin' on the boundin' main of Lake Fairfax. Call 703-222-4664 for more.
"Romeo and Juliet." various times at Lake Anne Recreation Area, 11301 North Shore Drive, Reston. Produced by AnyStage Theater and performed outdoors. Email anystagetheater@gmail.com for more.
Sunday/May 7
March for Babies. 9 a.m.-2 p.m. at Reston Town Center Pavilion, 11900 Market St., Reston Town Center. Enjoy a walk, picnic, music, and children's activities to support March of Dimes. Registration and fun begins at 9 am, walk begins at 10 a.m. Call 703-824-0111 or visit marchforbabies.com for more.
Artists Reception. 3-7 p.m. at the Reston Community Center in Hunters Woods Village, 2310 Colts Neck Road, Reston. Meet artist Norman Krasnegor, and see his art exhibit which will be on display during the month of May. Visit www.redmontart.net/the-collection/ for more.
May 9-20
Mind, Heart, Vision Exhibit. Various times at the ArtSpace Herndon, 750 Center Street, Herndon. Exhibit showcasing extraordinary artworks of Herndon High School art students embarking upon their senior thesis. Call 703-956-9560 or visit www.artspaceherndon.com for more.
Wednesday/May 10
League of Women Voters. 7:30-9 p.m. at Hunter Mill District Community Room B, 1801 Cameron Glen Drive, Reston. Local LWV members update some long-standing local governance issues. Call 202-263-1311 visit www.lwv-fairfax.org for more.
Saturday, May 13
Rummage Sale. 8 a.m.-1 p.m. at South Lakes High School, 11400 South Lakes Drive, Reston. The South Lakes HS Band is having a rummage sale to support the band's trip to march in the Pearl Harbor parade in Hawaii.Visit www.southlakesband.org for more.
Tour de Cure. 6 a.m.-4 p.m. at Reston Town Center, 11900 Market St., Reston. Ride to raise funds for diabetes research. Email tracey@nardimedia.com or call 814-392-0609.
Reston Community Yard Sale. 8:30 a.m. at 1900 Campus Commons Drive. (corner of Sunrise Valley Drive and Wiehle Avenue) 85 families will be selling a variety of items so this is a great opportunity to find things for a new home or a college dorm. No early birds as gates open at 8:30am. Rain date Sunday, May 14. Visit www.reston.org/ for more.
Artful Mother's Day Tea. 2-4 p.m. at ArtSpace Herndon, 750 Center St., Herndon. Funds to benefit Arts Herndon's Scholarships and programming $45. Call 703-956-9560 or visit www.artspaceherndon for more.
Sunday/May 14
Exercise with Athleta. 11 a.m.-noon at Reston Town Center Pavilion, 11900 Market St., Reston Town Center. "Get Fit America" Zumba class with US Fitness in support of Armor-Up for Life. Free, all ages. Call 703-668-0256 or visit athleta.com/reston for more.