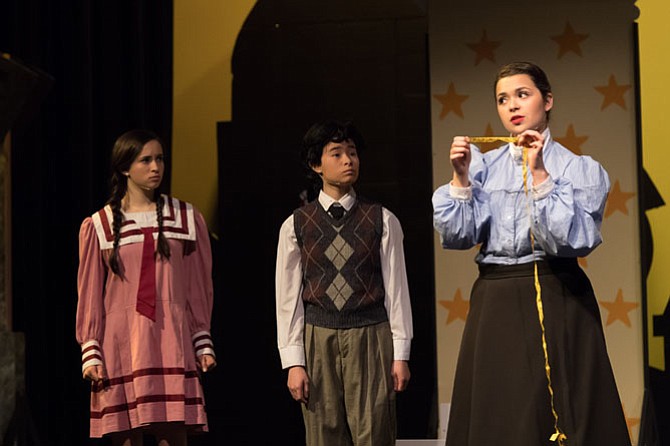 With a spoonful of sugar and a dash of magic, Flint Hill School brought the fantastical family classic, "Mary Poppins," to life.
Based upon the award-winning 1964 movie musical starring Julie Andrews and Dick Van Dyke, the musical came to the Broadway stage in 2006, produced by Cameron Mackintosh and Thomas Schumacher, entertaining audiences of all ages.
An enchanting tale of two misbehaving children, Jane Banks (Whitney McDonnell) and Michael Banks (Liliana Suzuki), and their rigid, weary parents, George Banks (Joshua Nkenchor) and Winifred Banks (Claudia Wood), they encounter a mystical nanny, Mary Poppins (Olivia Hernandez), and her friend, Bert (Henry Jeanneret), who lead the group through a series of wondrous adventures. This show of love, family, and life brings perspective and a sunny attitude to 17 Cherry Tree Lane.
As the audience was transported to Edwardian London in 1910, a cohesive and dynamic ensemble of chimney sweeps proved Flint Hill's level of consistency. The additional ensembles — namely the bankers and house servants — added vitality and contrast to their respective scenes. Their consistent vocals and practiced dancing abilities shined in "Step in Time" and "Jolly Holiday." Standouts in the ensemble included the hysterical servant duo of Robertson Ay (Mohammed Badawi) and Mrs. Brill (Claire Briggs) whose comedic antics gained uproarious laughter.
The Banks family — who conveyed a consistently compelling story with standout character portrayals — carried the show with ease. A particularly engaging narrative was the relationship between Mr. and Mrs. Banks. Mrs. Banks (Claudia Wood) produced a believable and raw portrait of an anxious mother and developed an emotional connection through her advanced vocals during "Being Mrs. Banks." Her stern counterpart, Mr. Banks (Joshua Nkenchor), successfully showed his transformation from a distant and militant father to a loving family member. The parents were beautifully contrasted by their children, Jane Banks (Whitney McDonnell) and Michael Banks (Liliana Suzuki), who both depicted consistent, convincing caricatures of mischievous children, highlighted in songs such as "Practically Perfect (Reprise)."
Leading the show were the delightful duo of Mary Poppins (Olivia Hernandez) and the charming Bert (Henry Jeanneret). Mary Poppins brought energy and poise to the stage, impressing both with her vocal maturity and sophisticated choices and movement. Hernandez created a timeless character highlighted in "A Spoonful of Sugar." Yet, her counterpart, Jeanneret as Bert, stood out among the ensemble, captivating the audience with ease during both his solo and group numbers, such as "Chim Chim Cher-ee," with consistent charm and lovable quirks that made him unforgettable. He smoothly led his group of chimney sweeps with distinguished vocals and persistent energy.