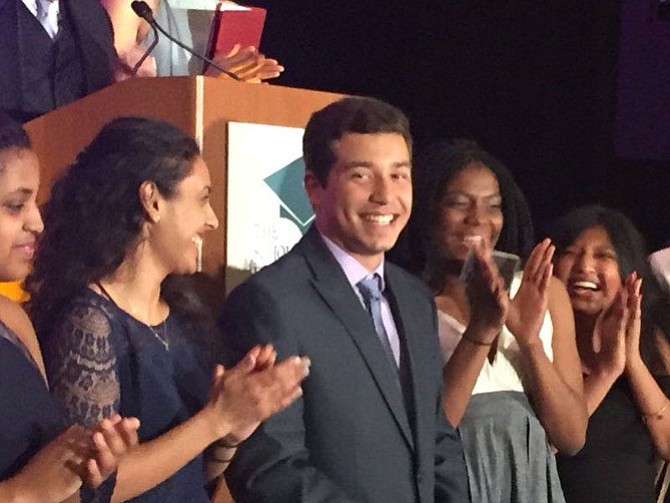 To the chant of "We Are the Titans," students from the T.C. Williams class of 2017 entered the ballroom of the Mark Center Hilton April 29 for the 31st annual Scholarship Fund of Alexandria Gala.
The event, with more than 460 attendees, raised $300,000 to send students in need to college. Among the recipients was T.C. Williams Student Government President Peter Laboy Jr., son of veteran police officer Peter Laboy Sr., who was wounded in the line of duty in 2013.
"I am very proud of Peter," said Laboy Sr., who was decked out in the colors of Duke University, where Laboy Jr. will attend school in the fall. "This is an exciting night for us."
On March 31, SFA executive director Beth Lovain surprised Laboy Jr. with the Loti Dunn Scholarship of $24,000, which will be awarded over four years. In addition to serving as the student government president, Laboy Jr. rows for T.C. Titans Crew and is a member of the National Honor Society.
This year's Scholarship Fund will send 154 students from the class of 2017 to college. Since its inception in 1986, the Fund has provided more than $13 million in scholarships and sent more than 4,500 Alexandria students in need to college.
For more information, visit www.alexscholarshipfund.org.