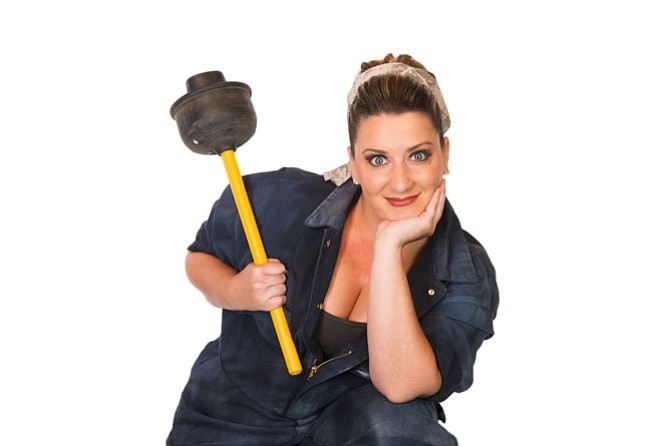 Herndon — "What kind of musical is NextStop Theatre's production of the multi-Tony
Where and When
NextStop Theatre Company presents "Urinetown" at 269 Sunset Park Drive, Herndon. Performances: May 25 - June 25. Thursdays, May 25, June 8 and June 15 at 7:30 p.m., Fridays at 8 p.m., Saturday, May 27 at 7 p.m., June 2, 9, 16 and 23 at 8 p.m., Sunday May 28 at 2 p.m., June 4 at 2 p.m. and 7 p.m., June 11, 18 and 25 at 2 p.m. Tickets $40. Call 866-811-4111 or visit www.nextstoptheat....
Award winning "Urinetown"? According to Evan Hoffmann, artistic director, NextStop Theatre, the musical is a "brilliant" satire in which nothing is safe or sacred.
"What is great about this show is that it does such a remarkable job of balancing some very harsh and topical political satire with a dose of ridiculous humor," said Hoffmann. "That allows the show to provide a heartfelt message without becoming too preachy or weighty."
With music by Mark Hollmann, lyrics by Hollmann and Greg Kotis, and book by Kotis, the musical pokes fun at irresponsible behavior, flaws of capitalism, entrenched bureaucracy, as well as corporate maleficence, reckless politics and the rise of populism.
The show's set-up is this: there is an ongoing water shortage in a big city. The city government bans private toilets to save water. Citizens must use public restrooms when the need arises. The public facilities are run by a mean-spirited company that profits by charging admission to use its rest rooms.
With about 20 musical numbers, "It's so fun. 'Urinetown' very knowingly and carefully parodies many musicals that will be very familiar to theater lovers," said Elisa Rosman, music director. "You'll catch glimpses in there from everything from 'West Side Story' to 'Les Miserables.'" Rosman will direct a band of five.
Northern Virginia's Walter Ware III will direct the inspired lunacy of "Urinetown" and Kelly d'Amboise, George Mason University School of Dance faculty, has developed new spirited dance sequences to further animate the production.
Jennifer Lambert plays Penelope Pennywise, who runs one of the city's public restrooms. "I think people will enjoy Penelope's attitude, comedic moments, and songs," said Lambert. "And all the characters are fun to dive into and the music is great."
Ryan Manning plays Officer Lockstock who is both a character and the production's narrator. As narrator, he guides the audience throughout the show. Asked how audiences should take the show, Manning said, "sit back and get ready to laugh, a lot, and enjoy this amazing world."
Chris Gillespie, as character Caldwell B. Cladwell, "takes advantage of the poor" as he bribes politicians and pays off the police. He totally wants "to squash any hint of resistance" to his hold on power.
"Without a doubt, 'Urinetown' is going to be a blast." added Gillespie. "It's hysterical, it is timely and thought provoking."