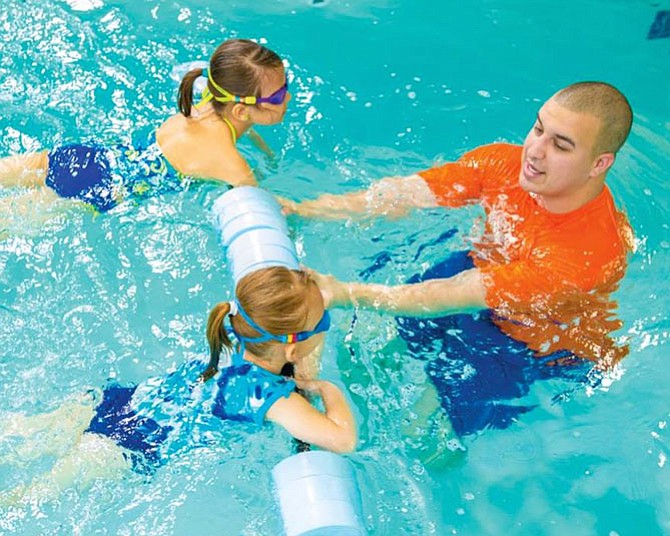 "It's … important that swimmers take steps to maximize the health benefits of swimming while minimizing the risk of injury or illness to themselves and others." — Martin A. Thompson, Environmental Health Supervisor, Fairfax County
During the month of May, National Water Safety Month, water safety educators are waging a month-long campaign to educate the public about responsible water practices before the start of summer. The campaign is designed to help prevent drowning and water-related illness and injuries.
"The most important tip from swim experts [is] to have your child in perpetual swim lessons," said Gina Bewersdorf, who owns Goldfish Swim School in Reston. "Situations will always arise in which we or our children are around water, [like] at a friend's pool party, vacation near a lake, or a boating trip, so learning the necessary skills to stay safe is vital. It only takes a second for a child or adult to unsuspectingly fall into a body of water."
Constant adult supervision is the first and best way to prevent accidents in and around water, says Lisa S. Grepps, director, Marketing & Communications, The Association of Pool & Spa Professionals in Alexandria. She also recommends additional safeguards to help prevent children from gaining unsupervised access to a pool or spa or to warn of a child's presence. "But don't get lulled into a false sense of security with barriers and other devices as they are just backups to the primary means of accident prevention which is constant adult supervision," said Grepps.
Keeping a cell phone nearby to make a call to 911 in case of an emergency and avoiding swimming at the first sign of bad weather are two tips that Ann Thompson of Ann's Aquatics in Bethesda offers to her students and their parents. "I tell parents that certain flotation devices are great, but they are in no way a replacement for responsible adult supervision," she said. "And the supervision should be undistracted. Don't get lost in a conversation or a phone call and divert attention away from your children, not even for a second. If you leave the pool area, no matter how brief the period of time, take the children with you."
In addition to learning to swim, Bewersdorf recommends making sure that children are taught water safety skills as well as how to perform CPR on both adults and children. "We recommend a child enroll in swim lessons as early as possible [and] year round, not just during the warmer months. Persistent swim lessons are proven to be incredibly beneficial in order to keep these life-saving skills sharp" she said. "We offer classes as young as four months old in which the parents are constantly with their infants. This gets the child used to simply being in and around water and they learn simple safety skills."
When choosing a pool, check for an on-duty lifeguard. In cases where a lifeguard is not available, look for accessible safety equipment such as a rescue ring or pole.
"We want people to have a safe and fun time swimming and that's why [we] issue permits to all public pool facilities and routinely inspect them to ensure they are being operated in a safe and healthy manner, in accordance with Fairfax County Code," said Martin A. Thompson, Environmental Health supervisor for Fairfax County. "It's also important that swimmers take steps to maximize the health benefits of swimming while minimizing the risk of injury or illness to themselves and others."
Thompson advises adhering to other safety guidelines from the Centers for Disease Control and Prevention (CDC) which include looking to see if the drain at the bottom of the deep end is visible, staying out of the pool if you have diarrhea, covering any open wounds with waterproof bandages, showering before entering the pool and only using flotation devices that are Coast Guard approved.
Learn to Swim
Arlington County
https://parks.arlingtonva.us/sports/aquatics/aquatic-classes/
Alexandria
https://rec.alexandriava.gov/webtrac/wbwsc/rt14prd.wsc/wbsplash.html
Fairfax County
http://www.fairfaxcounty.gov/parks/wp-recenter.htm
Montgomery County
http://www.montgomerycountymd.gov/rec/thingstodo/aquatics/lessons.html