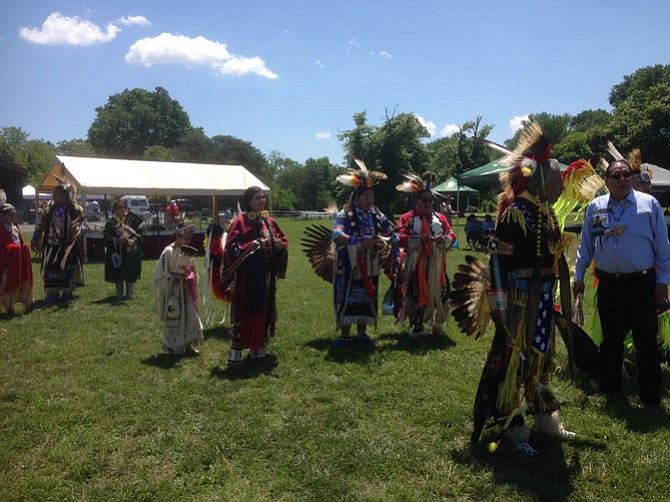 Mount Vernon — The plight of the Native Americans through history is nothing to be proud of.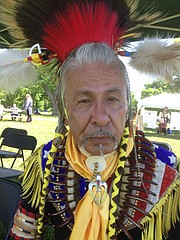 The treaties that weren't honored, the Nez Perce surrender and the Cherokee's "trail of tears" in 1838 are not highpoints in American history, yet it didn't appear to dampen the enthusiasm in Fort Hunt Park when the National Indigenous Circle gathered for the first American Indian Heritage Day.
Tehumtya was one of the organizers for the May 14 event, and appreciated the cooperation between the National Park Service, the National Indigenous Circle (NIC), veterans and the Six Nation Iroquois Smoke Dancers. "It's a healing event," said Rachel LeQuire of the park service.
The healing she spoke of was healing of the mistakes of the past, the misconceptions about Native Americans, and the environment which they have relied on through the years. It was Mother's Day, so "mother earth," was mentioned more than once. Apensanahkwat, part Menominee and part Ojibway was in from Wisconsin where his relatives grew up. "When I'm dancing, I am dancing for my life, for the creator. Everything we do in life has to do with the creator," he said.
The Hollywood version of the Native American has been etched on many minds, but it's filled with misrepresentations. Although the colorful outfits adorned with feathers were part of the show, it's not the whole story. "We want to be able to tell all stories, bring the missing piece back," said LeQuire. "We want to clear up misconceptions," she said.
The dancing and drum circle were a focus as well as "smudging with sage," a ceremonial practice with a smoking tray of sage that's breathed in before the dance. This is a spiritual communion that has a direct effect on reducing stress and has links to the Native American culture, according to the Mind, Body, Green website. Dancers inhaled it before they entered the circle.
The land Fort Hunt Park is on was once occupied by the Doeg or Dogue tribe, which Dogue Creek was named after. This creek still winds through Huntley Meadows Park and Mount Vernon before emptying in the Potomac River. "The Dogue people are now extinct, the same fate as many other tribes," said LeQuire. She tried to stay on track with the uplifting ceremony, but "I don't want to shy away from the truth," she said. Eventually George Washington owned the land before it became a park.
In fact, the lease for the original 13 colonies, which includes Virginia, is still in place, said Tehumtya. "Iroquois owned the 13 colonies, it's leased to the U.S. government," he said. Tehumtya didn't dwell on it though. "My thought is about the future, not about yesteryear," he said.
The event was the first event of this type but the National Park Service and the NIC hope it continues and grows each year. "We'll see how it goes," said LeQuire.