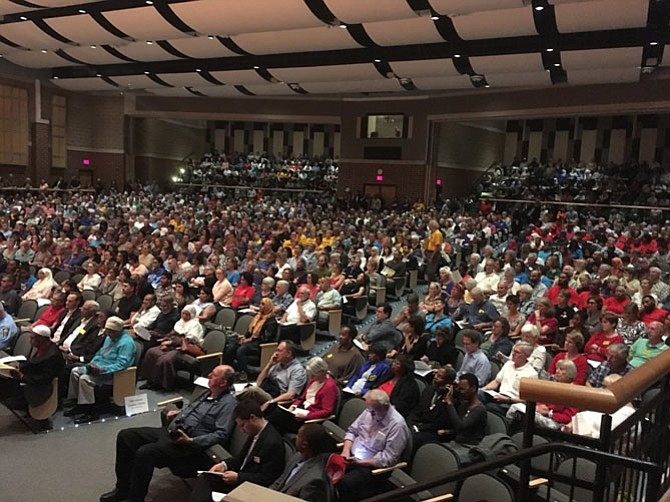 Candidates for Virginia Governor committed, if elected, to work with VOICE — a regional interfaith community organizing coalition — on VOICE's social justice reform agenda.
The commitments emerged from a political, but nonpartisan, "action" that turned out nearly 1,600 people Oct. 15 in Prince William County. Gubernatorial candidates Ralph Northam (D) and Ed Gillespie (R), along with various other local and state officials, attended. VOICE includes more than 40 member institutions from Protestant, Catholic, Muslim, Jewish and other faith traditions in Prince William, Arlington, Fairfax and Alexandria.
The action's headline theme was "We the People," which Rabbi Michael Holzman of Northern Virginia Hebrew Congregation described as a shared "covenant."
Each successive generation must "ensure that 'We the People' includes all people," said the Rev. Austin Almaguer of Vienna Baptist Church. "There are always forces, externally and within ourselves, trying to pull us apart, back into our tribal groups. … To truly be 'We the People' always creates tension. It requires dialogue and compromise, because in that give and take, real politics comes alive."
Many VOICE members say they have personally experienced gaps in "We the People."
Merehan Elhady of the Muslim American Society is a lung specialist. She told of a patient, who, unprovoked, threw a bedpan at her, screaming: Don't touch me, you f------ terrorist! Why don't you go back to work in your own country? "I was paralyzed by the fact that I was covered in someone else's fecal matter and urine. … She called me a terrorist in a hospital, a place of safety, and I did not feel safe," said Elhady, a third-generation American.
The Rev. Kenneth Nixon of Manassas' First Baptist Church lamented that Virginia's "low felony [larceny] level disproportionately targets young people, teenagers." He told of a young man he knows who, given a choice by a prosecutor, took a felony charge and freedom over a misdemeanor and jail because his family depends on his salary. "I'm not trying to excuse what he did. But young people make mistakes. We need to figure out how to help [them] instead of sticking them with charges that make their future impossible."
Suzanne Keating of Floris United Methodist Church in Herndon is a Fairfax County kindergarten teacher. "There is way too much testing of young students. And the expectations of teachers have moved far beyond teaching," she said. She recalled a time when she could create interactive and student-tailored lesson plans rather than have to run a classroom "like a well-oiled machine."
Sharon Williams of Unitarian Universalist Church of Arlington told of strain put on her by bus route cuts and Metro fare increases. "I used to live in Arlington near my job. But because of increasing housing costs I recently moved to Sterling. I now travel 2.5 hours each way to work," she said. Because no local buses run near her home, each leg of her journey includes a five-mile walk, commuter bus and Metrorail. The trip costs $16 per day.
Keith Hogan, a Metro bus driver, said: "Us front-line workers are forced to make up shortcomings in the system because top brass and politicians haven't done what's needed. And because of their political fighting I fear that I'm going to lose my livelihood." He worries that privatization of Metro jobs will preclude his remaining in the area and saving for his children's college.
Nathaniel Provencio, principal of Minnieville Elementary in Dale City, told of lower-income students and English-learners' challenges. Their families face "significant economic issues, lack of affordable housing and … serious concerns with immigration." He wants to see greater access to preschool education. He told of a student who, on the first day of kindergarten, "didn't know his letters, … couldn't hold a pencil and couldn't hold a pair of scissors." Only two of his 85 kindergarteners attended preschool.
Lizette told of her experience related to Deferred Action for Childhood Arrivals (DACA). "I began to dream about my future and starting a life out of the shadows," she said. "Now that DACA has been killed, I am afraid again. I am afraid to slip back into hopelessness. And I am afraid of losing everything I worked so hard to earn." Lizette graduated high school as valedictorian and college with honors.
Northam and Gillespie said they would meet again and work with VOICE on the six issue areas its members spoke about: leading the nation in reducing discrimination, hate acts and bullying; making criminal justice restorative; strengthening public education; making transit reliable and maintaining good transit jobs; building housing that is affordable for workers and families; and keeping immigrant families together.
VOICE leaders insisted on more than a token relationship.
"I am not interested in a photo opportunity when a tragedy hits. I am not interested in a relationship where I am invited for prayer," said the Rev. Clyde Ellis of Mt. Olive Baptist Church. "The relationship we're looking for is one where we meet twice a year to discuss our shared interests, and particularly in the fall before the budget is complete."
Northam and Gillespie also each commented on VOICE's issue agenda. To read more about the issue agenda and the candidates' responses, see www.voice-iaf.org/candidate_responses.