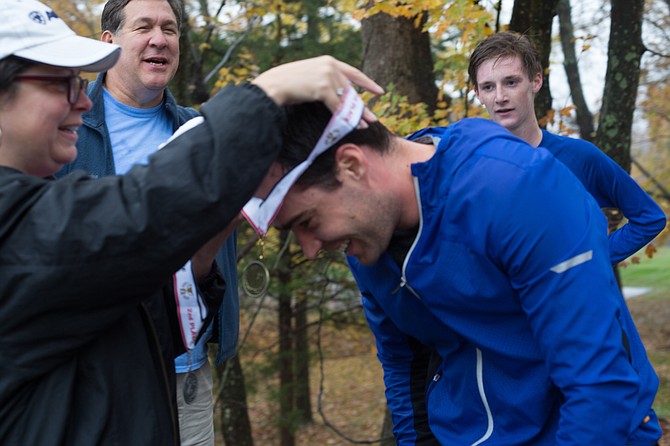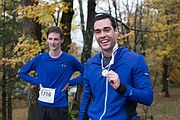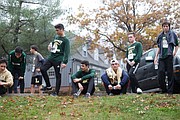 Sunday morning, Nov. 5 was rainy, but spirits were high for the Great Falls Lift Me Up 5K and fun run. Competitive runners and children and families looking to enjoy some brisk morning exercise lined up at the starting line in Great Falls village center.
The Great Falls Lift Me Up 5K raised money for Lift Me Up, a local horse farm that helps disabled children and veterans achieve mobility through horse riding. The veteran riding program is called "Back in the Saddle." Bill Carbaugh, the president of Lift Me Up told the runners and families that Lift Me Up has been helping the community of Great Falls for 42 years. This year they have around 100 riders.
"We wanted to raise awareness of Lift Me Up and a fun run would be good for reaching out to a broader community," he said.
Great Falls has a unique equestrian history and Lift Me Up is attempting to carry on that legacy while serving the Great Falls community. "We employ volunteers from the community, they are part of our life blood," said Carbaugh.
Turner Farm is a historic farm that has existed in the Great Falls community for years as a horse farm for riding, and people like Carbaugh hope to see it stay that way. Great Falls is riddled with horse trails and farms for horses and riding.
"It's an effective therapy for wheelchair bound kids, to get them on the horse and their hips moving," he said.
"We had more runners than we expected with this weather" said Donna Zimmerman, a member of the board of Lift Me Up. "A lot more people said they were going to do it next year," she said.
Wiehan Peyper, 31, of Great Falls took home first place, but second place winner, Harry Morson, 14, of Burke was not far behind him. "This is my training ground, so I better win on my own course," said Peyper.
"The race was pretty good and not too hilly," said Morson.
Langely High School's wrestling team also came to run Sunday morning. Their coach thought it would be a good idea for his team to get an early morning Sunday workout.
Lift Me Up's annual fundraiser gala this year will be help on Nov. 18. Their website for the event is www.liftmeupgala.com.