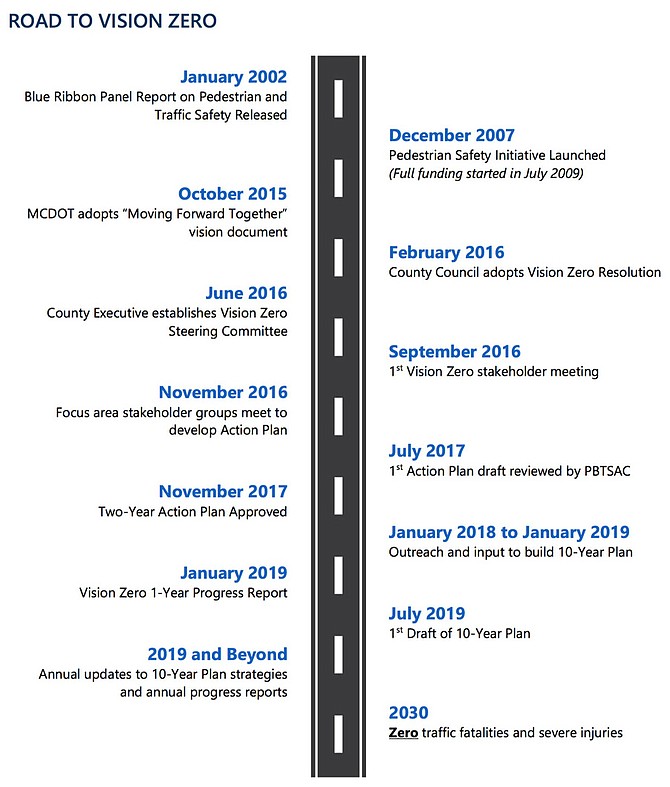 In hopes of eliminating severe and fatal collisions on county roadways, County Executive Isiah Leggett announced the implementation of Vision Zero, a plan to reduce those collisions by 35 percent for vehicle occupants, bicyclists and pedestrians by November 2019 and an overall goal of zero severe and fatal collisions by 2030.
"Vision Zero is an audacious goal," Leggett said in a press release. "It is one that we can all embrace and champion together in order to bring to zero the number of heartbreaking deaths and serious injuries due to traffic collisions. We have made progress. With Vision Zero, we can strengthen our efforts."
In 2010 the county began a Pedestrian Safety Initiative. Under that program, between 2010 and 2016 there were 250 fewer severe and 33 fewer fatal collisions compared with the previous five-year average, Leggett pointed out. Now the county is taking its efforts to vehicles.
The county will focus on county roads and continue working with the state of Maryland to reduce severe injuries and fatalities on state roads.
Many heavily traveled roads in the county are state roads, according to Lorraine Driscoll, a county spokesperson.
"State roads are the ones with route numbers," she said. "This effort is focused on county roads because that is what we can do."
River Road, which runs through Potomac is a state road, Maryland Route 190. Falls Road, too is a state road, Maryland Route 189, up to the intersection with River Road, then it is a county road until it joins MacArthur Boulevard.
The Vision Zero concept for roadway safety originated in Sweden in 1997, "founded on the belief that loss of life is not an acceptable price to pay for mobility," according to the Center for Active Design, a nonprofit organization that uses design to foster healthy and engaged communities. Vision Zero has been adopted by more than two dozen jurisdictions in the United States, mostly by large cities. Montgomery County is one of the first counties in the United States to adopt Vision Zero, according to the Leggett press release.
The two-year plan includes 41 specific action items to expand safety efforts. Action items are organized into five areas: Engineering, Enforcement, Education and Training, Traffic Incident Management; and Law, Policy and Advocacy.
A detailed report outlining the two-year plan was also released when Leggett made his announcement of the program Nov. 1. The 42-page document gives details of the action items and includes data in the form of charts and graphs showing current collision trends. No Potomac roads are included in the "high injury network" of roads outlined in the report. Those included are rated "low-medium."
"In developing this Two-Year Action Plan, collision data collected by the Montgomery County Police Department (MCPD) covering 2012 to 2016 were analyzed. There were 1,849 collisions that resulted in 1,996 severe injuries and 174 fatalities to drivers, passengers, pedestrians, and bicyclists. During this period, the number of severe collisions declined 37 percent, but fatal collisions increased 58 percent. The majority of the increase was for vehicle occupants. The data presented in this plan does not include every severe and fatal collision that occurred in the county during the analysis period. The main areas excluded are the interstates, I-495 and I-270, and the City of Takoma Park. These areas were omitted for two reasons. First, MCPD's records did not include reports from the departments listed …. Second, this action plan is designed to focus on areas where the County Government can best use its resources on roadways it maintains and can do enforcement," the plan states.
A few notes from the Action Plan include:
Severe and fatal collisions are concentrated on the county's busiest, fastest, and widest roads. All severe and fatal collisions occurred on 18 percent of the roadway network; 69 percent of severe and 76 percent of fatal collisions occurred on roadways with speeds 35 MPH or above.

Eliminating severe and fatal collisions requires acknowledging and acting on the fact that certain communities are impacted more than others. Communities with higher rates of poverty, persons of color, and younger residents have higher collision rates in the county. To address this inequity, the county will prioritize its resources to invest in the communities most affected by traffic collisions and proactively engage with community members to address their concerns.

Education and enforcement are most effective when targeted towards the environmental and behavioral factors that contribute to a collision. Further details about the factors highlighted below can be found in the supplemental data analysis document available on the County's Vision Zero website.

The county's youngest and oldest residents were most at risk for severe and fatal collisions.

Seatbelt use was three times lower in fatal crashes compared to severe crashes. Helmet use for motorcycle and moped operators was nearly equal for both crash types.
The working group that developed the plan included the Montgomery County departments of Transportation, Police, Fire and Rescue Service, Public Information, County Stat and other agencies. The Pedestrian, Bicycle, and Traffic Safety Advisory Committee and the general public considered and commented on the Action Plan during development.
The Two-Year "Vision Zero" Action Plan and other resources can be found at www.montgomerycountymd.gov/visionzero.