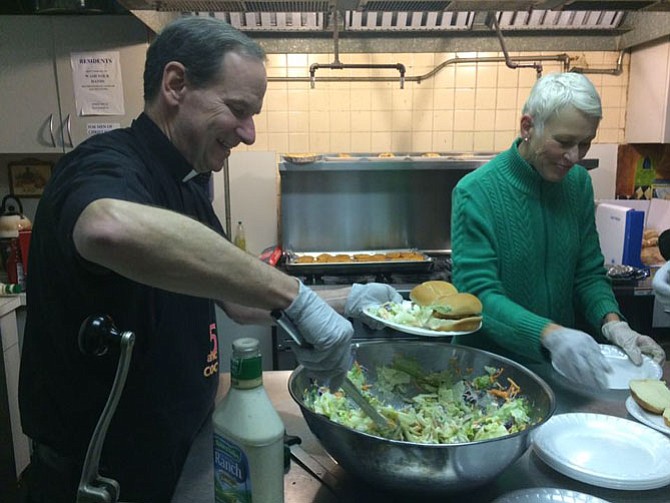 Last fall, Pope Francis appointed the Most Rev. Michael Burbidge to be the fourth bishop of the Catholic Diocese of Arlington. The diocese, covering 28 jurisdictions in the northern quarter of the Commonwealth, comprises nearly half a million parishioners and more than 13,000 students in Catholic schools. The Gazette Packet interviewed Burbidge, after his first year in the job, about his priority that Catholics should engage the "public arena." This intends to be the first in a series of interviews with local religious leaders about their traditions' doctrines of public engagement and views on local and metropolitan issues.
You've said that Catholics should "bring the truth and the joy of the Gospel into the public arena" and "help shape public policies." Can you expound on what you mean by that "public arena" and what facets of it you particularly hope Catholics will shape, specifically in relation to the regional context of your diocese?
Burbidge: When I speak of bringing one's faith to the public arena, I am speaking of more than public policy. Living one's faith means it is a part of us wherever we go and whatever we do. This begins with an interior, daily commitment to allow our relationship with Christ and His Church to form our will and intellect. Our Catholic faith encompasses Tradition, the Magisterium (the teaching body of the Church), and Sacred Scripture. In the gift of the Magisterium, we find that many of the nuances and details of what is taught through Tradition or Sacred Scripture are fleshed out in a manner that assists us in our lives as we defend the sanctity and dignity of every human life and work for the common good. Should these teachings be reflected in our personal behavior? Absolutely. They inform the way we confront racism, the breakdown of the family, and the disrespect for the dignity of human life. They guide the way we run a business and how we vote and interact with our public officials. When our faith is integrated into our lives as it should be, we carry that truth and joy with us wherever we go.
Catholic teaching speaks of "sanctif[ying] … the world from within as a leaven" and "penetrat[ing] of all spheres of human society." At the same time, there exist various arrays of religiously affiliated institutions — e.g., Catholic schools, Catholic media — in which Catholics may participate as alternatives to secular counterpart institutions. Can you comment on this self-differentiation in relation to your call to public engagement?
Burbidge: Our Lord calls us to be "leaven" in the world. For Catholics, this begins in a particular and sacred way during the Holy Sacrifice of the Mass, as the very bread and wine are transformed into the Body and Blood of Jesus Christ, the Eucharist. This is the spiritual nourishment we need to live the life to which Christ calls us. To be leaven in society, we must live out the truth, beauty and goodness of the Gospel of Jesus Christ consistently and confidently in every arena in which we find ourselves. For example, if we look at our cities and counties and identify the need to provide basic necessities for the poor, are we working to ensure these needs are met? Christ is explicit about this. We have a moral obligation to assist the poor. Pope Francis wrote, "If indeed 'the just ordering of society and of the state is a central responsibility of politics,' the Church 'cannot and must not remain on the sidelines in the fight for justice.'" We may not overcome every societal need, but our faith certainly demands that we take part in the effort to bring about justice in our communities and our nation.
Catholic teaching speaks in negative terms of "healing institutions, structures and conditions of life that are contrary to human dignity." At the same time, in positive terms, it says: "Every sector of the family of man carries within itself and in its best traditions some portion of the spiritual treasure entrusted by God to humanity, even though many may not be aware of the source from which it comes." In the communities at large in your diocese, what "best" aspects have you perceived that are genuinely good "treasure" and that you would have Catholics champion?
Burbidge: There are several issues through which people across the political spectrum have come together to explore better solutions. They include heightened efforts among law enforcement officials and lawmakers to address the tragic reality of human trafficking, efforts to provide pregnant women and girls who are experiencing difficult circumstances the support they need, and efforts to provide loving homes for children through adoption and foster care, communities coming together to donate their time and/or money, clothes, etc. in disaster situations, just to name a few.
I am in awe of the goodness we see throughout our diocese with regard to Catholics who defend the dignity of the human person and the sanctity of life, and work for the common good. There is not enough space in any publication to recount the ways, but I would encourage readers to visit arlingtondiocese.org, catholicherald.com, and vacatholic.org (see in particular "legislative summary") to learn more. This past summer at our annual WorkCamp, nearly 1,000 of our teens spent a week divided into crews that carried out improvement projects for the homes of the poor and disadvantaged living in central and northern Virginia. One of the individuals they helped has been constrained to a wheelchair after an accident he suffered 17 years ago. He had to be carried out of his house by his family every time he needed to get to his car to go to the doctor or run an errand. After the teens renovated his deck and built a wheelchair-accessible ramp down to his driveway, he was able to get out of the house on his own. When I had the pleasure of talking to him, he praised the young people who helped him, saying, "I didn't know people like this existed anymore." The Mother of Mercy Free Clinic in Manassas is set to open in December, 2017. The facility was a former abortion clinic, but a group of parishioners at All Saints Catholic Church in Manassas and Holy Trinity Catholic Church in Gainesville spoke with the owner who eventually agreed to shut it down. Now, it will offer free medical care to the uninsured. This free clinic, run by Catholic Charities, will work to prolong life and promote the dignity of the human person.
Catholic teaching enjoins clergy to help establish "dialogue … with men of all shades of opinion" and to "erase every cause of division." Yet it is not uncommon to hear of "conservative" and "liberal" Catholics. Are partisan divides being mirrored in the church? How would you counsel Catholics to promote solidarity, not least amongst themselves, in a partisan divided society?
Burbidge: Catholics should be first identified by their faith, not by a political label. "Conservative" or "liberal" are political terms that do not describe the Church with any sense of accuracy. Often, these terms are used to inject division in the Church. In our country, neither political party's platforms or expressed values perfectly reflect the social doctrine of the Catholic Church. We are One, Holy, Catholic and Apostolic. We believe in the Apostles' Creed as a foundation for our Faith.
The question of solidarity is a good one. Solidarity is "a firm and persevering determination to commit oneself … to the good of all and of each individual, because we are all really responsible for all" (St. John Paul II, "On Social Concern" [Sollicitudo rei Socialis], no. 38). At a time when we witness so much disunity, name-calling, bigotry, hatred and division within our nation, we must recommit ourselves to finding unity. Catholics believe that the very truth and source of unity is Jesus Christ. We are united as brothers and sisters in Christ. I exhort all Catholics and people of good will to promote solidarity in the most profound way, by being an instrument of His mercy.
Within society, we must find unity across religious and political lines. While we might not agree on all issues, we must respect one another and never resort to name-calling or bigotry. Respect is the foundation of unity within any society.