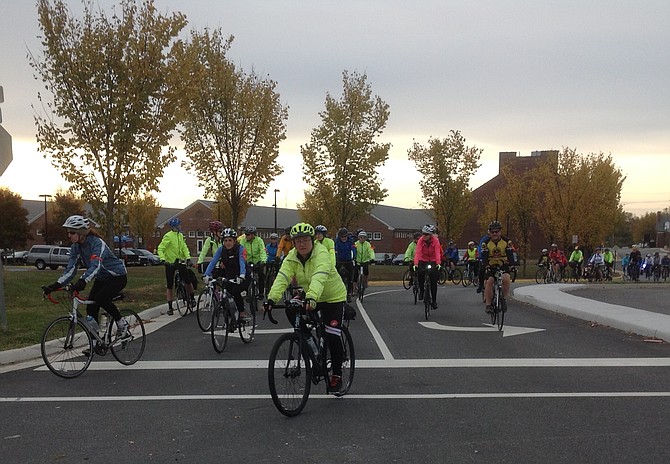 Gunston Hall, a Frank Lloyd Wright home, the nation's first bald eagle preservation refuge: Mount Vernon teems with hidden treasures. On Nov. 4, Mount Vernon District Supervisor Dan Storck took members of the local community on a 35-mile bike tour. Starting and ending at the Workhouse Arts Center, the tour ran along paved bike trails through some of the most scenic parts of Fairfax.
The tour started out of a bike ride last with some friends in late December, but afterwards Storck decided to open the tour up to members of the community. Over email, Storck explained a little more about the bike tour and its goals.
Why do you think a ride like this is important?
Storck: More people need to get outdoors, connect with other people and experience something new. It helps to keep us young of mind, body and spirit. I know that it also improves our local economy by providing local businesses and heritage sites an opportunity to introduce themselves to new audiences. We had almost 200 riders, most of them had never ridden our extensive trail network or been to our start and end point at the Workhouse Arts Center. The Workhouse is home to the performing arts, dozens of visual artists from a variety of disciplines, and provides over 800 classes and workshops. As the Mount Vernon District Supervisor, a key part of my mission is to promote our scenic beauty, history and diversity and to encourage folks from near and far to spend their time and money here to experience our wonderful quality of life.
Of the sites you explore on this tour, what are some of your favorites and why?
Storck:The Tour had many wonderful sites to visit this year and, truly, each one is a favorite for me in different ways. However, the Tour is more than specific destinations, it is a short journey, hopefully appreciated for the wholeness of the experience. It's an opportunity to expand your mind with different challenges, experience our local scenic beauty, while meeting new people that may share common interests. Riders have an opportunity to see the natural and human-made legacies around us and learn more about our history and heritage with each stop. Along the way, riders from all over the area shared experiences and connected.
What made you want to do this tour for a second time?
Storck: Our first ride got rave reviews and cyclists asked for more opportunities to tour. As an entrepreneur, I also know that it takes time to realize the full opportunity and potential of a new idea or activity. With almost five times more riders, more amenities, greater support and increased public-private collaboration, we were able to fully realize our second-year objectives. We know that we have seen only the beginnings of what future Tour de Mount Vernon's could include, particularly when we add in the Potomac and Occoquan rivers that define Mount Vernon District's eastern and southern boundaries.
How is Fairfax different for you on bike vs in a car or on foot?
Storck: The Mount Vernon District has every kind of riding condition from rural and suburban roads, to now more urban streets, complete with trails and paths in the most scenic of places. As a lifelong walker/runner/cyclist and yearly driver of tens of thousands of miles, I have found that cycling provides a nice balance between the slower walking/running world and the fast, road-intensive focus driving requires. With cycling, my intensity and stress levels slow down, I feel a more human connection with the people around me (without a ton of metal between us), my mindfulness increases (for good and bad reasons) and my environment becomes more real (especially pushing-up a hill or dodging close cars). It helps me to keep the balance I want in my life.