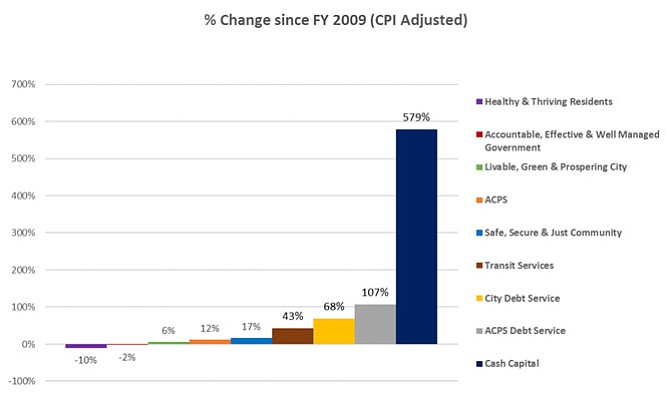 In light of an ongoing constrained budget environment, City Council began considering structural cost-saving measures at its annual retreat Saturday, Nov. 4.
"We've got a challenging year ahead of us," said City Manager Mark Jinks.
The city projects a $32 million funding gap in its FY19 General Fund budget. Forecasted expenditures exceed revenues by $33 million in FY19, rising to $92 million in FY23. City service costs, transit, the public school system's operating budget and capital investment principally drive expenditure increases, says Morgan Routt, the city's budget director. Regional economic growth lags behind most other metropolitans. Potential federal and state cuts could force city service reductions. Rising construction costs may further squeeze capital investments.
"Deferred infrastructure work" consumes an increasingly larger proportion of city dollars, observed Vice Mayor Justin Wilson. Since FY09, expenditure growth has most increased in the categories of transit services, debt service and cash capital. The share of General Fund expenditure has decreased in every other major category. "I think that's a pretty dramatic story. It tells … of some of the challenges that we're facing," said Wilson.
City departments are looking for more potential cuts — up to 2 percent each.
The city will also transition to a new budgeting method called "priority based budgeting." It "looks at all of the services we provide, not just the increments around the edges," and then drives a "disciplined process of, what's really important to us as a community?" said Routt. It aims to "determine intended results" and "do important things well," according to the presentation slides.
This may mitigate "the temptation to 'prioritize across the board,'" said Councilman Tim Lovain.
"Moving forward, we are not going to be able just to turn to Mr. Jinks and tell him to fix it and make it work. There are going to have to be some real tough choices," said Councilman Paul Smedberg, also commending the new approach.
Though "we have really tightened our belt already," said Councilwoman Redella Pepper, citizens are "furious" when services they're used to are cut.
The Ad Hoc Joint City-Schools Facility Investment Task Force, an advisory group, recommended how to optimize available funds for certain city and school facilities projects slated through FY27. Their plan reduces the funding gap for those projects from $46 million to $4 million. Though that doesn't include the cost of interim space during city hall's renovation, which could re-widen the gap on the order of $10 million.
"We strongly believe that the needs being addressed by each project are valid and offer value," the Task Force said in a written report. "However, we do not recognize every proposed project as the optimal solution for the specified need."
Out of 28 projects initially, they recommend delaying 12 and removing or reducing funding for 9. The latter include renovation of Gadsby's Tavern; improvements to the health department building and a clinic; a new fire station; a new pool at the Chinquapin Aquatics Center; an indoor firing range; a new pre-K center; Matthew Maury Elementary School modernization; a new elementary school; and converting a rec center into an interim school to accommodate students during the construction of new permanent schools.
Their rationale varies on a case-by-case basis. For example, they recommend not converting the rec center, but rather building a new permanent school first and using it as interim space until the others are completed. This consolidation alone will save $41 million. Other projects were deemed unready in terms of planning or alternatives analysis.
The Task Force created new line items for planning and feasibility studies; a contingency cushion for project flexibility; a reserved allocation for seizing upon land acquisition opportunities when they arise; and funds for creating a joint city-schools facilities master plan.
Preceding another forthcoming report, Task Force members offered initial recommendations about what they called a "paradigm change" and "culture shift" — how to improve the overall process to prevent recurring budget crises.
Task Force member Elliot Branch outlined a proposed new "capability delivery model," distinguished from a project delivery model. The process starts with determining necessary capabilities, but without presupposing that capital projects are the best way to deliver them. With ample "seed money," the process considers alternatives like privatization of services, leasing rather than owning, public-private or inter-jurisdictional partnerships, project co-location. With sequential oversight, including earlier executive and political oversight, the process seeks to ensure projects are planned to readiness and not rushed reactively only when needs become urgent. It also seeks to plan more fully for capital projects' future operational sustainability.
The Task Force thinks city-schools interaction should become less ad hoc. They call for "a formal joint ongoing planning process … so that a deliberate, disciplined process is employed for future project planning."
Council and the School Board were asked later how they would solve the deeper political dysfunction that prevented them from hashing out the facilities prioritization in the first place, like the Task Force now has. During the FY18 budget process, some council and School Board members variously described the elected bodies' relationship as "politics and games," "not respectful to anyone involved," mistrustful, incommunicative, not sufficiently collaborative, lacking in mutual empathy, unable to find time for one another. Their dynamic was said to be "historic" and "systemic." "No electeds, no former electeds" on the Task Force. No staff either, because they "may not be" sufficiently "'disinterested' and neutral," according to a budget memo.
But none of that evidences a fundamental political dysfunction, said Wilson in an email. "Those quotes are just part and parcel of the give and take of an interaction that by its design has tension built into it," he said. Some other jurisdictions "have the School Board suing the governing body. We're not there. We have a process that was never designed to tackle the level of deferred investment we are working to address. The Task Force is helping us navigate that transition."
School Board Chairwoman Ramee Gentry said in a statement that the Task Force's advent is in keeping with a "common practice … to create advisory boards, commissions, and ad hoc committees."
Striking a somewhat different tone, School Board member Christopher Lewis said via email: "School Board members, including myself have asked for this sort of collaboration for years but it hasn't always materialized, so it is welcoming to hear it from a third party group. For example, I've asked for more joint work sessions to spend more time developing joint prioritization or systems through our staff to develop them for approval by elected officials. Unfortunately we haven't seen these happen. I hope the Task Force report will help push elected officials closer to working collaboratively than when the Task Force was unilaterally created in the spring. The excellent work of the Task Force is clearly work that could be handled jointly by City and ACPS [Alexandria City Public Schools] staff in the long run if only there [were] leadership at the top clearly leading in that direction. My hope is that the Task Force's reports and recommendations will lead to such leadership. If it doesn't, I'm hopeful that voters will demand it from candidates next year. … I'd like to think that such collaboration is what everyone wants, even if we haven't achieved it in all areas lately. We do have it in others, so it's not like there isn't something to build on."
The School Board will hear the Task Force's recommendations Nov. 9. Council will adopt its FY19 budget guidance Nov. 14. The superintendent will propose the schools' FY19-28 Capital Improvement Program Nov. 30. The public can give comment at any of these meetings.