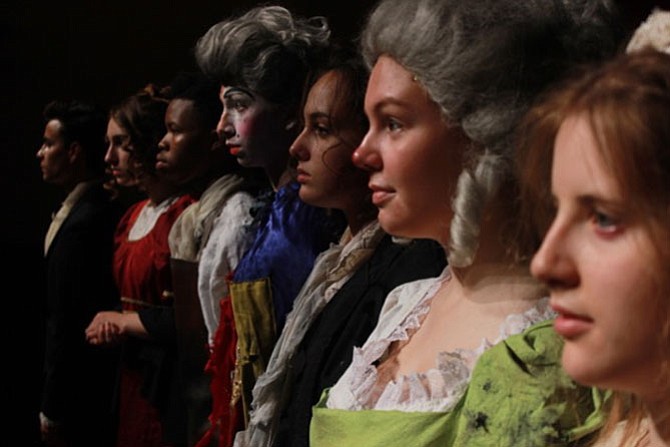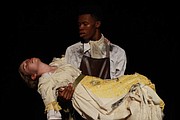 The Cast
The cast of "Volume of Smoke" includes: Anna Kate Womack (Reverend's Wife), Eli Wassertzug (Actor), Carmen Beadie (Stagehand), Matthew Lindeman (Property Man), Kristen Waagner (Carpenter), Alexandra Lagos (Audience Member 1), Jordan Prather (Audience Member 2), Emily Lachow (Audience Member 3), Ellie Murri (Audience Member 4), Syd Kirk (Audience Member 5), Erica Bass (Parent 1), Bryn Kirk (Parent 2), Carenna Slotkoff (Parent 3), Kara Murri (Child 1), Alex Weinstein (Child 2), Ruby Larimer (Child 3), Abby Covington (Orchestra Member), Ralph Whitfield (Blacksmith), Abby Comey (Physician), Alexa Lushetsky (Actress), and Anthony Salazar (Reverend).
McLean High School is located at 1633 Davidson Road, McLean. Call 703-714-5821.
Rarely do the ghosts of tragedy come back to tell their tales. However, in McLean High School's production of "Volume of Smoke," survivors and victims alike are given a platform to tell their experience of the 1811 Richmond theater fire where 87 souls perished. In the play, audience members will recount their losses, theater technicians will reveal their guilt, and survivors will learn how to move on.
This haunting tale by Clay McLeod Chapman will be performed just one weekend – Nov. 16, 17, and 18 at 7 p.m., with matinees at 2 p.m. on Nov. 18 (understudy show) and Nov. 19 at McLean High School's Burke Theater. Tickets can be bought online for $12 at www.theatremclean.org. Or at the door for $15.
Phillip Reid, McLean High's drama teacher, said the play is about the tragic events that happened in Richmond in 1811 and the ghosts who came back to the theater and told their story to the audience. It's told from the viewpoint of the victims.
"It actually did happen in [Dec. 26,] 1811; it was the largest fire on the East Coast at the time," with 87 casualties, he said. "There was no theater for two years afterwards; they banned the arts after that."
Reid said from an educational standpoint, he likes to pick shows that are different from year to year. "This year I wanted to stretch and pick a piece that was more obscure," he said. "We've never done a monologue-driven drama. I wanted to push the students . It's relevant today because of how we deal with tragedy and what happens when tragic moments happen in our lives."
WITH A CAST AND CREW of more than 100 students, including actors, technicians, set designers, and makeup, Reid said the challenge was finding the time to balance all of the elements, including makeup and costumes, in a very technical show. "Every week we talked with the technical heads and what we needed to do," he said.
Senior Haley Rose, 18, of McLean was the assistant director and co-head of publicity. She said the play is a collection of monologues from people who died in the Richmond theater and are speaking out about it.
"Some are telling their ghost stories so they are speaking about what brought them to the theater in the first place, and how they died. The ones who lived talk about how they dealt with the tragedy since," she said.
She added that the show has very little dialogue between the actors. "So it's interesting to have to work extensively with just monologues because you have to be able to find the chemistry and cohesion among the cast without having the ability to talk to each other," she said. "You have to find a way to make it flow because it isn't a typical linear, dialogue-driven play."
Junior Ralph Whitfield, 17, of Centreville plays the role of the blacksmith who is the hero of the story. "He sees the theater on fire and his instincts are to help in any way he can. He saves 36 women who jump out of the windows of the theater," he said. "It's just him trying to cope with the memories of that tragic experience. He uses a tragic experience his mother went through and he is sort of relating to her experience and the pain she went through."
SENIOR Anthony Salazar, 17, of McLean plays the Reverend – the villain of the piece. "He viewed [the fire] as God putting up a flag for him; it is his job to claim Richmond for God because he builds a church where the theater once stood after the fire," he said. "He's a very big personality with lots and lots of charisma – sort of an evangelical preacher. You love him but you see through his words and actions."
He said it was hard to nail down that sort of big presence that he had – the voice and being able to command everyone's attention and get his point across so fluidly.
Co-president of the Theater Boosters Heather Covington, whose daughter Abby has a role of orchestra member, said the show is heavy on the makeup because of the actors' scarring from burns from the fire, and some of the actors actually do double-duty as makeup artists in the production. She added that rehearsals began on Sept. 18, so they've been working on it for two months.
– Photos contributed by Andrew Reid, Haley Rose and Lauren Grobman.