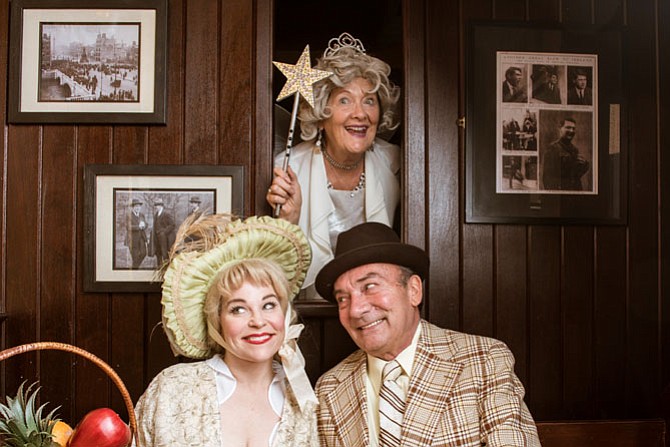 MetroStage in Alexandria is presenting "Christmas at the Old Bull and Bush"
from Nov. 17 to Dec. 24. Written and directed by Catherine Flye, the play is returning to the stage after a six-year run at the Old Vat Room at Arena Stage (1997-2003).
The play features British-variety music hall entertainment from the Edwardian era that was a show for the working classes filled with jokes, songs, skits, and dances. Taking place during the Christmas of 1912, The Old Bull and Bush Public House, Hampstead, London, is alive with British music hall songs and Christmas carols. Audiences will enjoy a pint or two, eat mince pies and sausage rolls, laugh at jokes and sketches, toe-tap to tuneful melodies and join in sing-a-longs.
"It is always fun to offer something for the holidays that delights an audience, that brings friends and families together in a festive setting to laugh, sing along and perhaps even enjoy a sausage roll or two," said Producing Artistic Director Carolyn Griffin. "'Christmas at the Old Bull and Bush' returns for Washington audiences to enjoy after a 15-year absence. The Old Vat Room where it was performed no longer exists at Arena Stage but the Old Vat's café tables and chairs have lived in the MetroStage lobby for many years. So with the departure of 'A Broadway Christmas Carol' a few years ago, it seemed like a logical step to recreate the Old Bull and Bush pub in our lobby and the traditional variety show on our stage."
Griffin continued, "I am excited for Alexandria audiences to discover or rediscover this classic British entertainment. It is filled with song and dance, Christmas crackers, silliness and singalongs that the entire family can participate and enjoy. A pub will be recreated in the lobby so audiences should come hungry for pub fare and ale, be ready to have a raucous good time, and leave full of holiday cheer."
Writer and director Catherine Flye said the Old Bull and Bush in Hampstead, London, is probably one of the most celebrated public houses in the world and was a home for the popular British Music Hall, which was entertainment for the working classes. The genre began in the 1890s and was at its height for about 20 years. Florrie Forde was a famous music hall star and her first big hit in 1904 was "Down at the Old Bull and Bush." It put Hampstead Heath and its pub firmly on the map and has been sung the world over. It was Florrie who first made famous "Pack Up Your Troubles" and "It's a Long Way to Tipperary," which became the marching songs for British soldiers in France during World War I.
From 1997-2003, under the banner of the Interact Theatre Company, Flye's "Down At The Old Bull And Bush" followed by "Christmas At The Old Bull And Bush" became favorites with Washington audiences. With the demise of the Old Vat Theatre during Arena's re-building program, the show lost its home.
Flye is also doing a cameo on stage as Joyce Grenfell who was a beloved British comedienne and who had an enormous influence on her formative years in England. "Since her death I have been performing and touring throughout the United Kingdom and here in the states, an entertainment entitled 'George – Don't Do That!' (one of her catch phrases) which celebrates her life. And so it's a particular joy to be able to play her again at the Old Bull and Bush," she said.
Albert Coia plays the main comedic role of Bertie Ramsbottom, the "Little Lump of Fun" as described in the script. "So all of my songs are slightly suggestive/bawdy, as is typical of the Music Hall genre," he said. "It is always up to the audience to hear what they will from the lyrics and my performance."
He said since he's done at least 35 to 40 Music Halls over the years with the British Players (formerly The British Embassy Players) here in Washington and
Performances for MetroStage's production of "Christmas at the Old Bull and Bush" will be Nov. 17 to Dec. 24; Wednesdays, Thursdays, and Fridays at 8 p.m., Saturdays at 3 p.m. and 8 p.m., and Sundays at 3 p.m. and 7 p.m., (no performance Nov. 23). Tickets are $55-$60 with student and active military and group discounts available. For ticket reservations or information about group sales, call the theater at 703-548-9044 or go to www.metrostage.org.
with the Woodside Players in London, that there were no major challenges in playing the role.
"Personally, the main challenge for me is the timing and physical interpretation of a song in order for the audience to get the suggestions and innuendo being made, which is what makes it so fun and entertaining and why Music Halls had such a devoted following," he said. "We are definitely trying to recreate that Music Hall atmosphere here at MetroStage for our holiday audiences."
Tracey Stephens plays the historical character Florrie Forde, a pillar of strength who is free loving to all. "She is the spark of the Ball," she said.
"When playing an historical character, it is always easier to physically look like the character. The challenge is, I don't physically look like her (at all), but what I found in the process is that really didn't matter. Once I spoke her words and began to live the way she lived, the essence of Florrie began to emerge. When the heart and the mind understand each other, the character comes to life," she said.