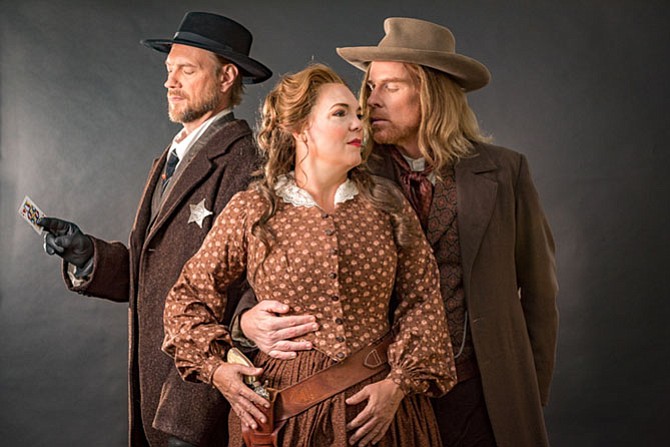 If you believe opera is only about faraway places with strange sounding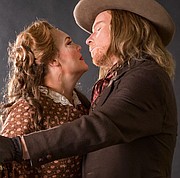 names, the very American, "The Girl of the Golden West" is coming to town courtesy of Virginia Opera, the official opera company of Virginia. The Virginia Opera was also a recent recipient of several "Arts Inspiration Awards" from the Virginia Commission for the Arts.
"Puccini's 'The Girl of the Golden West' is a colorful opera about just regular people during the California Gold Rush of 1849," said Jake Gardner who sings the role of the good hearted Sheriff Jack Rance in the production. "With sumptuous music composed by Puccini ["La Boehme" later adapted to become the urban musical "Rent"] the opera even sounds at times like music from Western movies many will recall."
"The Girl of the Golden West" has a sweeping score that is Puccini's interpretation of the rough and tough rural American Wild West. Including cigars, whiskey, mud, and even a dog. The opera's themes include unrequited
Where and When
Virginia Opera presents "The Girl of the Golden West" at Center for the Arts, George Mason University, 444 University Drive, Fairfax. Performances: Dec. 2, 2017 at 8 p.m. and Sunday, Dec. 3, 2017 at 2 p.m. Tickets: $54, $90 and $110. Call 888-945-2468 or visit www.cfa.gmu.edu. Note: Sung in Italian with projected English supertitles. Pre-performance discussion 45 minutes before the curtain with "Dr. Opera" Glenn Winters.
love, jealousy, betrayal, and redemption.
There are miners trying to make their fortunes, a mysterious bandit and a sheriff out to get his man.

The story line follows the travails of Minnie, the saloon owner. She is the object of desire for many of the home-sick, card-playing patrons of her establishment. But, Minnie has her own thoughts about that, especially after a mysterious stranger arrives.
Jill Gardner sings the role of Minnie. She describes Minnie as a "woman of dignity who happens to run a high class saloon. It is a beautiful love story with its theme of redemption."
The major role of Ramerrez (alias Dick Johnson), the bandit who steals Minnie's heart is portrayed by acclaimed veteran tenor, Roger Honeywell. Virginia Opera's production of "The Girl of the Golden West" is directed by Lillian Groag who created and first directed the opera for the world famous Glimmerglass Opera. The Virginia Opera's production will be under the baton of musical director Andrew Bisantz.
In a recent interview, Jill Gardner and Jake Gardner, married in real life, spoke of "the great joy of working together. We are even able to assist one another in performing such a great work of art as 'The Girl of the Golden West.'"
Inviting audiences to the opera, Jill Gardner said, "If you enjoy the music from a composer like Andrew Lloyd Weber, please take in 'The Girl of the Golden West.' The music is sumptuous."