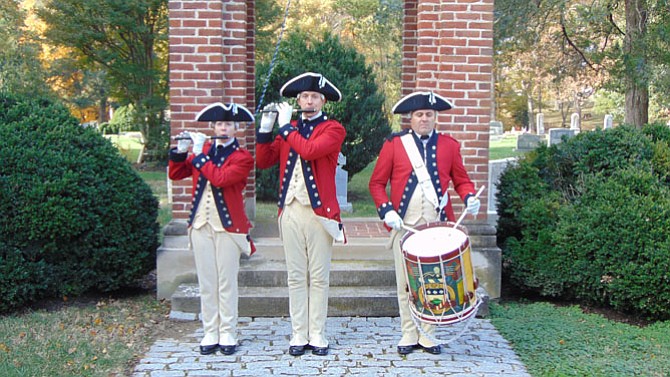 Lorton — The Historic Pohick Episcopal Church in Lorton held a Veterans Day Ceremony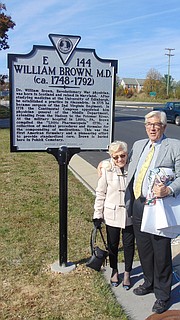 on Saturday, Nov. 11, which included the dedication of a Virginia Historical Highway Marker in honor of the visionary Revolutionary War physician Gen. William Brown (1748-1792), who is buried in the church cemetery.
The event included a church service with Morning Prayer from 1662 from the Book of Common Prayer, a ceremony with the U.S. Army Old Guard Fife and Drum Corps to honor U.S. Veterans and Dr. Brown, and the unveiling and dedication of the highway marker, followed by a reception.
"On this Veterans Day we are very honored to remember our nation's first physician Gen. William Brown. He is buried here at Pohick Church and now serves as an inspiration for those who continue in the fields of medicine and public health for their continued service to our nation today," said the Rev. Donald D. Binder, Ph.D. He added that Brown helped those who fought for the independence of our nation at its founding.
According to Dr. David Nelson, DMD, a descendant of William Brown, "The actions of the organizations represented here to dedicate the Virginia Highway Historical Marker and the initiation by the Friends of General Brown M.D., to launch a Veteran Health Initiative, both of these endeavors most assuredly represent and perpetuate the spirit of Dr. Brown, but in fact, they honor all of his contemporaries from that most revered generation in American history."
A little history on Dr. Brown: After receiving his M.D. degree in Edinburgh in 1770 and then settling in Alexandria, he soon attained high professional standing and became friends with George Washington, Thomas Jefferson, and other leading men of the time. In 1776, he entered the Continental Army as surgeon of Col. Woodford's Virginia Regiment, and was made assistant to Dr. Shippen, Chief Surgeon of the Flying Camp. In 1777, the Medical Department was reorganized and he was appointed by the Congress to be Surgeon General of the Eastern Department. In 1778, he was elected Physician General of the Eastern Department, succeeding Dr. Benjamin Rush. He held that position until 1780, when he resigned, on account of his health. During the winter of 1777-78, he was in charge of hospitals in Pennsylvania, at Lititz, and elsewhere. He died Jan. 13, 1792.