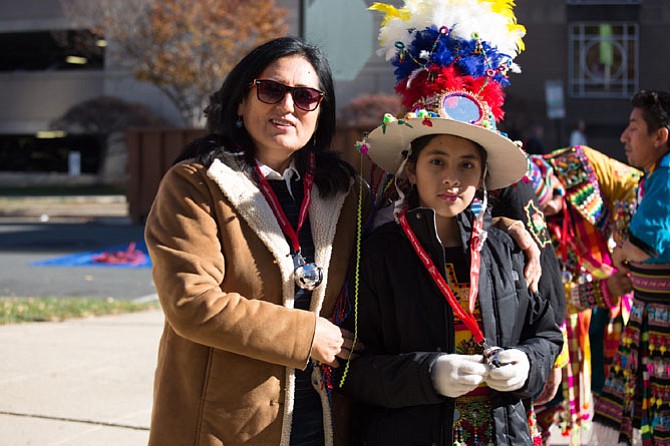 Reston Town Center's 27th annual Holiday Parade kicked off Black Friday with floats, Macy's-style parade balloons, music, and even Santa Claus. The parade is a holiday tradition in Reston, where it marks the lighting of the Reston Town Center Christmas tree and attracts thousands of visitors from all over Virginia, D.C. and Maryland.
Reston's multi-cultural communities showcased their holiday spirit at the Town Center, and brought with them, their special dress, music, and traditional dance.
"I love getting to see all of the people in the holiday spirit," said Leslie Jackson, 18, a freshman at University of Virginia who was wearing her Teen Ms. Earth U.S. sash. "The pageant helped me have an opportunity to show passion for the environment. This isn't my first parade, I've done a few others," she said.
Brian Hood and Bonnie Tang of Reston were also present at the parade with their son Noah, 2 and a half years old. "We are here in support of the Reston Mom's group, which has been great for my family," said Brian Hood.
Many Reston community groups had floats in the parade including the South Lakes High School Jr. ROTC. "The parade itself is a lot of fun, marching with JROTC. It's a leadership class that doesn't have any military obligations. We learn through leadership," said Kieran Heare, a junior at South lakes High School and First Sergeant with JROTC.
Other groups included dancers, like the Jr. Redskins Cheerleaders group which included real members of the Redskins cheerleading team, and their youth counterparts who also performed.
The 501st Legion, Vader's First were wearing Star Wars costumes. Henrique Rangel of Herndon, his wife, Ana Gabriela Godoy, and daughter Bianca Godoy were all wearing Star Wars outfits for their part in the parade. "Star Wars is awesome," said Bianca Godoy.
"it's our first time as a whole family for the parade," said Ana Gabriela Godoy who was dressed in white stormtrooper armor.
There were even groups of performers who came from out of state. The Falun Dafa, Tian Guo Marching Band had just arrived from Philadelphia where they were performing in the West Chester Thanksgiving Parade the day before.
"This is also our first time here. As a group, we promote physical health and inner self practice. Because China, our country, is a communist regime, there is no freedom of religion so I feel very lucky to be brought up in the west, and very lucky to be in America."