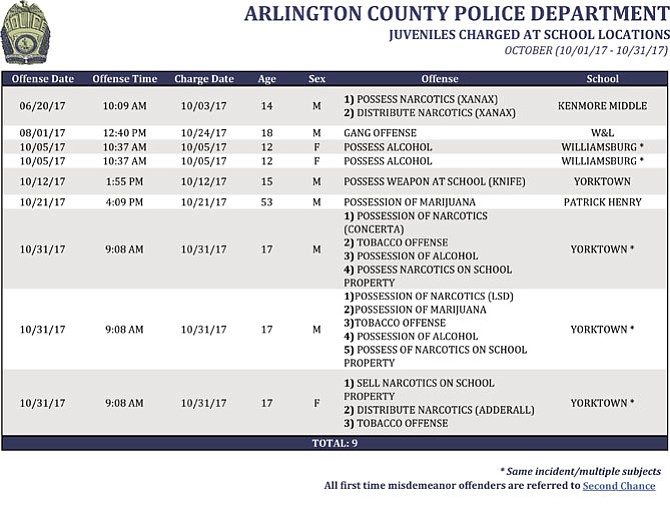 Lieutenant Susan Noack was worried about having enough hot coffee and donuts for the parents who would come out to the pre-PTA meeting on Nov. 13 to have "coffee with a cop" and talk about what is happening in the schools, particularly substance abuse. She needn't have worried: only seven parents came to the early evening opportunity to talk with a local police officer.
Noack has been through parenting a teenager and it wasn't easy. That is why she takes her job as an officer with the Arlington County Police Department (ACPD) in charge of the School Resource Officer Unit (SRO) so seriously. She has been with the ACPD for the past 27 years, and has worked with the schools for 11 of those.
The SRO Unit is comprised of 13 detectives, a sergeant, and a lieutenant. There is one officer in every middle and high school; there are three officers assigned to the various elementary schools. Despite the purpose of the SRO in schools to protect children, Noack says the pushback from parents about SROs investigating illegal activity is an issue she has to deal with all the time.
At the Nov. 13 meeting, parents approached her to ask about the new Memorandum of Understanding (MOU) regulating the interaction between SROs and students, articulating concern that a student might not have his rights protected adequately if questioned by the police.
Noack explained it is in the ACPD's interest to make sure the student, whether in 6th or 12th grade, is fully competent to reply to the questions, and has his rights respected. The MOU revision is in process to regulate the role of police officers in schools so they only get involved in legal issues, rather than being called in to address a behavioral issue.
Noack said her focus on substance abuse stems partially from watching people close to her suffer from opioid addiction. She believes in the power of the local authorities to help protect youth from mistakes. She agrees Yorktown High School's effort to manage substance abuse at the school will benefit from having the doors taken off the bathrooms, but said it has not stopped the bathrooms being used for transactions involving drugs.
"We caught a kid the other day passing drugs under the stall divider," said Noack. She sighed: "Even LSD is making a comeback," she said, "since two years ago." Noack said the statistics indicating drug activity is continuing at local schools were released last week in order to keep parents informed and aware.

One of Noack's tribulations is how parents push back on police efforts to steer youth in the right direction. "We call them and say 'we have a photo of your son or daughter smoking weed' and they say, 'You can't prove that is weed.They might be faking it.'" Noack shrugged: "Never mind assessing why their kid would think it was a good idea to fake doing drugs and put it out online."
Noack looked around the sparsely attended meeting. "Teen suicide is up in this area," she said. "Kids have access to drugs because they are getting prescriptions for Xanax — because anxiety is on the rise, and no one is teaching the kids how to manage anxiety in a different way." Was Noack disturbed to get such a poor turnout? "We just want to get the word out," she said. "Our event earlier in the year where we showed drug paraphernalia and talked about the issue got a better turnout."
"Probably the best deterrent would be K-9 patrols," Noack said, "however, Arlington Public Schools, under the direction of Dr. Patrick Murphy, has disallowed canines to come into the schools. We were even willing to do it during lock down so there wouldn't be any interaction with the kids, but we got a 'no' from APS," she said.
Linda Erdos, APS assistant superintendent, School and Community Relations, said there had not been a final decision. "Nobody has ruled out use of canine (K-9) searches in schools; Dr. Murphy wanted to allow the new principal at Yorktown a chance to put other measures in place and to have awareness sessions with students, teachers, and parents. When we met with PTA reps from middle and high schools, most parents were interested in beginning conversations, with kids and school administrations; the high schools wanted to hold sessions, to build awareness among families. We wanted them to have the chance to do that. Yorktown has been holding sessions, Washington and Lee had a session last spring and again this fall. We have a weekly meeting with Police Chief Farr and he keeps us aware of what is happening in the schools. Any criminal activity, any concerns about anything, we talk about it. We just had a meeting with the same people who orchestrated the community meeting on Nov. 5 — the Arlington Partnership for Youth and Families — and we talked about what we need to do next. We're not here to catch people; we want to keep people from making bad decisions."