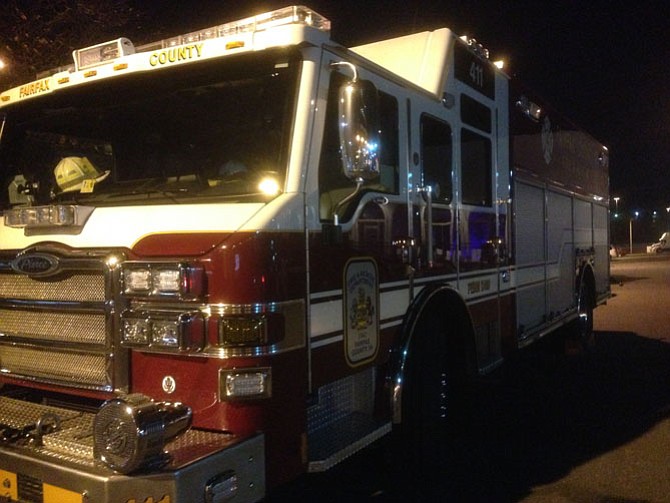 Mount Vernon — When Officer Carlos Lama helped the fire and rescue operations at a burning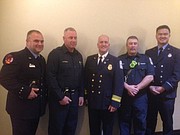 apartment complex in Kingstowne back in 2004, it was just one of the several points in his police career that added up to recognition by the Mount Vernon-Lee Chamber of Commerce on Friday, Nov. 18 at the Hilton in Springfield.
The apartment fire still stays with him. "The flames engulfed it pretty much, we helped carry a lot of people to the ambulance," he said.
Lama, an officer at the Mount Vernon Police Station, was being awarded by the chamber for Supervisor of the Year. Other police department awardees included Mike Fischer, Captain of the Year; Nicholas Shivley, Officer of the Year; Marvin Goodley, Detective of the Year; Rick Lopez, Auxiliary Police Officer of the Year; and Station Logistics Technician Michael Jessee.
The police station officers were honored at the event alongside with officers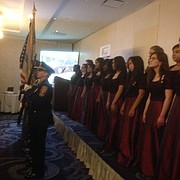 from the Mount Vernon Fire Department and emergency response officers from Fort Belvoir.
"We are delighted to welcome our elected officials, police, emergency medical personnel, firefighters and their families to this community celebration of dedication, valor and service," said Scott Stroh, the chamber president.
On the stage were Supervisor Dan Storck (D-Mt. Vernon); Supervisor Jeff McKay (D-Lee); Lt. Col. James Matheson, Commander of Fort Belvoir; Col. Edwin C. Rossler, Fairfax County Police Chief; Chief Richard Bower of the Fairfax County Fire and Rescue; and other officials. The event was emceed by Jonathan Elias, an ABC network newsperson, who interjected a little humor over the course of the evening to relieve tension, he said. Elias grew up with parents in the military and police. "I've always had an affinity for police and fire, hats off to you," he said.
The Fairfax County Public Safety Honor Guard kicked off the event with the colors, and the Viva Voces, the advanced Women's Choir from Mount Vernon
"It's important to recognize individuals that make public safety a priority."
— Francis Mensah, member, Public Safety Honor Guard
High School sang the national anthem among other patriotic songs. "It's important to recognize individuals that make public safety a priority," said Francis Mensah, a member of the Public Safety Honor Guard for 22 years.
This sentiment was felt on the stage too. "It's a great feeling, it means even more when you're recognized by your peers," said Lama.
2017 Police and Firefighters Tribute Awardees
By the Mount Vernon-Lee Chamber of Commerce
Mount Vernon area Fire and Rescue:
Captain Mike Fischer, Company Officer of the Year

John "JD" Leary, Meritorious Service Award

Carlos Solomon, EMT/Medic of the Year

Jason Roberts, Firefighter of the Year
Mount Vernon Police:
Nicholas Shively, Police Officer of the Year

Carlos Lama, Supervisor of the Year

Marvin Goodley, Detective of the Year

Rick Lopez, Auxiliary Police Officer of the Year

Michael Jessee, Meritorious Service Award Station Logistics
Fort Belvoir Fire and Police:
Christopher Craft, Company Officer of the Year

Andrew Funk, Firefighter Medic

Jonathan Lang, Firefighter of the Year

Steven Kinchen, Police Department Supervisor of the Year

Christian J. McCreary, Traffic Investigator of the Year

Dewitt Parker, Patrol Officer of the Year

Alicia Handy, Detective of the Year

Paul J Arney, Army Security Supervisor of the Year

Sean Murphy, Army Security Guard of the Year
Franconia Police:
Martin Russell, Police Officer of the Year

Phillip Edwards, Detective of the Year

Alice Eggers, Meritorious Service Award

Athena Caul, Auxiliary Police Officer of the Year

Jonathan Nytes, Supervisor of the Year