Alexandria — The Little Theatre of Alexandria (LTA) is presenting Charles Dickens' classic, "A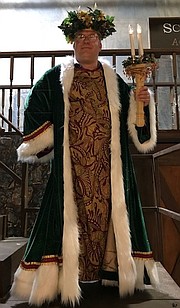 Christmas Carol," from Dec. 1-16. The story features Ebenezer Scrooge, a miserable Victorian humbug, who travels with ghostly guides through Christmas past, present, and future to find the true meaning of the holidays. The show is complete with special effects, Victorian carols and Tiny Tim.
Co-producer Jean Coyle said, "The story of this play is a familiar one to many of us. As we come closer to the end of another year, the story calls out to us to review our lives just as Mr. Scrooge is called by the ghosts of Christmas past, present, and future to do so. While this is an old-fashioned tale, the lesson in it is very contemporary — one of love and kindness always winning the day."
She added that because of LTA's long tradition of presenting the show each December, that it's a wonderful legacy of which to be a part. "The play is such a significant part of the holiday season for many people and we often have sell-out audiences, so it is an awesome responsibility to play a part in helping these performances happen," she said.
Co-producer Maria Ciarrocchi said over the years she's performed in seven productions of "A Christmas Carol" and seen countless others. "It's not really Christmas for me unless I see this story so when the opportunity presented
Where and When
The Little Theatre of Alexandria (LTA) is presenting Charles Dickens' classic, "A Christmas Carol," from Dec. 1-16, 2017. Showtimes are Thursdays and Fridays at 8 p.m.; Saturdays and Sundays at 3 p.m. and 6 p.m. Tickets are $17. The venue is at 600 Wolfe Street, Alexandria, VA 22314. Visit the website at www.thelittlethea....
itself I gladly agreed to spend the season in Dickens' London," she said.
She said three things she hopes the audience takes away from the play are: that it is never too late to change the course of your life, you just have to want to do it; that everyone matters, no exceptions; and, remember to take time out of the hustle and bustle of the holiday season to actually enjoy the holidays, and that it's the people not the gifts that make it.
Director Eleanore Tapscott said LTA has been presenting "A Christmas Carol" for several years now. "Although the story is well known, audiences continued to be intrigued by the idea that even the most despicable of us is potentially redeemable. With this year's production, we've focused on the subtitle of the novella – A Ghost Story of Christmas, and I also tried to incorporate more of Dickens' words into the text," she said.
She said the play has many principle and feature roles, and all of the cast, except for Cal Whitehurst, who plays Scrooge, play multiple roles. "Coordinating acting, music, and dance for a cast of 32 was definitely challenging," she said.
CAL WHITEHURST plays Scrooge, a man who has become greedy, selfish, and even cruel in his pursuit of wealth. "At the end, he is transformed by his encounters with the ghosts of Christmas past, present, and future into a man full of generosity, joy and love," Whitehurst said.
He said the greatest challenge to playing Scrooge is the familiarity of the character. "I sort of see myself as haunted by the ghosts of Scrooge's past, so I need to meet the audience's expectations and bring Scrooge to life for them once more," he said.
Carol Clark plays the role of Belle, who is Scrooge's love interest in the show. "She's a quiet, loving woman with a backbone of steel who isn't afraid to speak her mind when necessary," she said.
She calls the show "a cautionary tale full of ghosts and greed." She added, "'A Christmas Carol' reaches out to the heart with bright notes of hope, love, and a few carols, of course. I hope our audience leaves us singing with the joy of the season in their hearts."
Kevin J. Broderick Jr. plays the role of the Ghost of Christmas Present. With a joie de vivre, "he loves being in any and all Christmas celebrations happening around the world. Where there is Christmas, so too is the Ghost of Christmas Present. He loves knowing that his 'spirit and blessing' occupy the hearts of all who feel the joy of Christmas day," he said.
He added, "The only way for Scrooge to embrace his reclamation is for him to face his ignorance. He has to know how he got to this place (his past), what effect his choices and beliefs are having upon his present, and what shall happen to him if things don't change (his future)."
Natalie Cavender, who is 8 years old, is playing the role of Caroline's daughter No. 2, a curious kid whose family owes Mr. Scrooge money. "Something that was hard was that I have never been in a play and all of it is very new, but very exciting," she said.
Hannah Pecoraro is playing the role of Mrs. Fezziwig, who she calls the hostess with the mostest. "She thrives on parties and good barley ale. Her Christmas cheer is contagious and, despite the age gap, she's besotted with her kind-hearted hubby, Mr. Fezziwig," she said.
She said the challenge was the cast who play multiple roles. "The key challenge is bringing your different characters to life with their own distinct personalities and mannerisms. Accents can certainly help with that – another challenge – but movement, make up and costuming help separate those characters," she said.
Larry Grey is playing the role of Mr. Fezziwig, who provides contrast to Scrooge's attitudes toward business ethics, and Jacob Marley. "The challenge for me in playing these two roles is that they are on the surface so opposed to each other," he said.
"Jacob Marley represents death, regret, the eternal price paid for greed and selfishness in life. He is beyond hope yet feels a great desire to help his 'sole friend and mourner' escape his fate," he said. "Fezziwig, on the other hand, is life and joy. He represents the true meaning of Christmas, selflessly giving and concerned with people above profit."
Thomas Kennedy, who is 9 years old, plays the role of Tiny Tim, who he describes as a little shy and weak, partly because he has a disability. "His father, Mr. Cratchit, works as a clerk for Ebenezer Scrooge. The family is very poor, but they love each other very much," he said.
"I like playing Tiny Tim," he said. "I try to be strong and show that the crutch isn't going to stop him from being a good kid and working hard to have a happy life! It is fun to play a real boy in a large cast with children and adult actors."