The Fairfax Symphony and The Fairfax Ballet are combining artistic strengths to spotlight talented
Where and When
"The Nutcracker" presented by the Fairfax Symphony Orchestra and the Fairfax Ballet at George Mason University, Center for the Arts, 4400 University Drive, Fairfax. Performance Dec. 16, 2017 at 4 p.m. Tickets: $39, $53, $65. Call 703-993-8888 or visit www.cfa.gmu.edu. Performance information also available at Fairfax Symphony www.fairfaxsympho... and Fairfax Ballet at www.rsbdance.com.
local artists, musicians and dancers, with a performance of Tchaikovsky's "The Nutcracker" at the Center for the Arts. "Both organizations have a long history of producing quality performing arts and arts education programs that help build community and develop a capacity for creativity," said James McKeever, Board Chairman, Fairfax Symphony Orchestra (FSO). "The arts are vital to building a balanced, successful society."
Fairfax Ballet Artistic Director Margaret Virkus said that "by performing together with Chris Zimmerman conducting Tchaikovsky's masterpiece, the audience has a rare opportunity to experience live orchestral accompaniment together with this timeless holiday dance classic."
"The Nutcracker" at the Center for the Arts will include 50 musicians and nearly 60 dancers. The performance will have an innovative, digital backdrop to create memorable scenes,
This performance of "The Nutcracker" will welcome two guest performers from the renowned Dance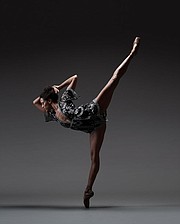 Theatre of Harlem; dancers Lindsey Croop and Anthony Santos.
"I'm excited by this unique opportunity to dance the role of Sugar Plum with The Fairfax Ballet and Fairfax Symphony. I look forward to performing for the local community and providing support to the student dancers," said Croop.
"I know a lot of national attention has been drawn to ballet's lack of diversity which extends from its aristocratic European roots. I'm so happy that this is given more awareness," added Croop. "But I also want to make sure my narrative includes how beneficial ballet has been for me throughout my life. It's been a backbone throughout my life that has kept me looking forward; continuing with belief and aspiration for the future. Dancing as a member of Dance Theater of Harlem has taught me to
celebrate my heritage rather than try to hide it or blend in. I think that's the unique power of art."

Clifton's Ana Victoria Smith, 16, is performing the key role of Clara, the ballet's young heroine. "It is truly an honor to perform such an iconic role that most every young ballerina dreams of dancing. I am certainly one of those."
"Performing with a live orchestra is an incredible experience. You become surrounded by the intensity of the music. It brings the artistry of the performance to a whole other level," added Smith.
A partnership of two of Fairfax County's long-standing performance organization are ready to light-up the holidays with their "Nutcracker."