Centreville — The holiday season is here, and that means it's time for mistletoe, gingerbread houses and Encore
If you go....
Show times are: Dec. 8 at 7:30 p.m.; Dec. 9 at noon, 4 and 7:30 p.m.; Dec. 10 at noon and 4 p.m.; Dec. 15 at 7:30 p.m.; Dec. 16 at noon, 4 and 7:30 p.m.; and Dec. 17 at noon and 4 p.m. Tickets range from $19-$26 via www.encore-tap.org or 703-222-5511. Location: Richard Ernst Theater, NOVA campus, 8333 Little River Turnpike in Annandale.
Theatrical Arts Project's new song-and-dance extravaganza, "Christmas at Quigley's." The show runs Dec. 8-17 in the Richard Ernst Theater at NOVA's Annandale campus.
There's a cast of 28 students, plus adult guest performers Jack Stein and Nick McDonough. The story begins at the North Pole, where elf Albert (McDonough) is sent on a mission to New York City. There, at Quigley's Toy Shop, he meets Basil (Stein), who runs the toy shop.
Albert discovers the magic of Quigley's workshop and how — no matter how strange and bizarre a toy is that a child wants — it'll be in the store catalog and will magically appear. He wants to know how this happens, so he investigates. But he causes chaos, which Basil has to sort out.
The actors and dancers have been rehearsing since August, and Director/Choreographer Raynor van der Merwe says things are going wonderfully. Calling her students "a joy to work with," she said,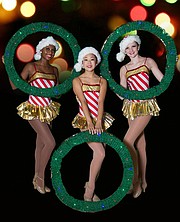 "Watching them transform into young, pre-professionals is exciting for me. And knowing the history of the performers that have gone before them at Encore and gone on to professional dance careers, I can envision them doing the same thing in the future."
Van der Merwe said the show will be entertaining for all ages. "It's got the glamour of New York City and the big, musical, Broadway numbers," she said. "But at the same time, it has the charm that'll make people laugh because of the phenomenal actors and the well-written script by Scott and Karsten Dees."
"It's upbeat and will put the audience in the holiday spirit," continued van der Merwe. "With some 18 song-and-dance numbers, it features music they know, plus some new songs and surprises. And as they leave the theater, they'll be tapping their toes and humming a song."
Erin Krobath plays Terri, one of the clerks at Quigley's. "She's trying to find Albert after he runs off with Basil's magical hat that brings the toy store to life," said Krobath. "She goes along with things and is outgoing and friendly, but serious about her job, and I like her quirkiness."
Her favorite dance number is "Elf Lounge" because, said Krobath, "We're looking for Albert with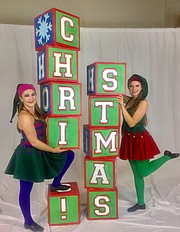 flashlights and it's a smaller, group dance. And it's fun choreography with a cool dynamic. This show is different from what we've done before because an elf will directly interact with a human. We're bringing back a lot of old, familiar dances, like 'Soldiers,' but also doing some new versions, like 'Disappearing Santas.'"
Rithika Ashok, a Chantilly High junior, has been dancing since age 3 and has been with Encore eight years. "Dancing is a free space to express myself, and it's super fun," she said. "Being with Encore has taught me many life skills, such as respect, perseverance and responsibility. It's not just dance — you learn things that you can apply in the real world."
In this production, she sings "Santa Claus Boogie" with a group wearing various styles, prints and colors of elf costumes. "My favorite dance is 'Snow Biz,' the jazz, Rockette number," said Ashok. "I like the kickline at the end, and it's pretty cool to see everybody dancing in synch. During Christmastime, there are a lot of 'Nutcrackers' and classical holiday shows, but we're a more family-friendly, Broadway-style musical."
She said the audience will enjoy the diverse array of dances. "We go from being Rockettes to toy soldiers to elves at the North Pole to clerks in a New York City toy store," said Ashok. "So they'll really get immersed in the whole, holiday experience."
Fairfax High senior Veronica Litschgi dances as an elf, a clerk, a Rockette, a doll and a soldier. "I especially like the tap number, 'Wreaths,' because tap is my strong suit," she said. "It's also my favorite costume in the show; we look like candy canes dancing with Christmas wreaths."
She also likes the song, "Let Yourself Go." Litschgi said it was hard to learn because "It's really fast and you have to build up stamina to do it, so it feels really good when you do. In it, we clerks are stocking the toy shelves, but telling the shoppers to relax."
She's danced nine years with Encore. "There are so many different styles, so you're not just doing the same thing every day," said Litschgi. "And putting movements together with music is really fun. In this show, the audience will enjoy how many dance numbers we have. They'll also like all the different costumes and will be amazed at how fast we change for each number. And they'll appreciate all the detail in the set because our set designer, Tabitha Dees, is amazing."
Agreeing, van der Merwe said, "The set is beautiful; the North Pole and Santa's village are bright and vibrant. And in New York, people will see the outside of Quigley's — and then it'll open up into this gorgeous, magical toy shop with a large train, toys and jack-in-the-boxes that come to life. It's visually exciting, with lots of color and sparkle."
Faith Chun, an eighth-grader at Trinity Christian School in Fairfax, sings, dances and portrays a snobby elf named Lavender. "She doesn't like Albert and tries to get him in trouble at the North Pole," said Chun. "She's fun to play, and I often show her character by her actions toward Albert."
Chun loves being in the show because dancing is one of her favorite things to do. An Encore member for six years, she said, "Dancing is my passion and what I want to do when I grow up. I especially like the number, 'No Biz Like Snow Biz.' It's a Rockette-style dance, and we wear white leotards with ruffles in the back, plus white gloves. It's upbeat and fun to do."
Chun said the audience will like how both the dancing and acting tell the story. "It's very enjoyable to watch," she added. "And the colorful costumes help bring the story to life, too."
Becca Perron plays Snickers the elf in the North Pole scenes. "She's kind of dumb, but loves the North Pole and Christmas, and she's happy, so she makes a good elf," said Perron. "The things she says aren't the brightest, so I have fun playing around with that."
Perron also portrays a clerk at Quigley's, where her favorite number, "Sparkle Jolly," takes place.
"It's about making everything more Chistmasy," she said. "And it'll help get people in the Christmas spirit." Perron said people will like the set because "It has a ton of toys and bright colors. And the 'Soldiers' number is one that the audience always loves." In her seventh year with Encore, she said, "Dance isn't just a sport, it's an art form, so you get to play around with it."