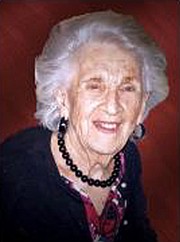 Marjorie Ann Harris, 92, died on Friday, Nov. 25, 2017, at Inova Alexandria Hospital, after a valiant fight with ovarian cancer. A native Alexandrian, she was born on Feb. 26, 1925 at Alexandria Hospital. She was the only child of Max and Victoria Salomonsohn.
She was preceded in death by her first husband Clyde Kenneth Warren, her second husband Paul McNeil Harris, and her stepsons Stephen Harris and Paul "PM" McNeil Harris, Jr. She is survived by her daughter, Vicki Lee Warren (Jim Brigman), her stepsons, Michael Harris (Lynda) and Phillip Harris, her step-granddaughter, Asheley MacDougall (Sean), her step-great-grandchildren, Teighan, Takota, Tate, and Tristan, her adopted granddaughter, Christine Wasilewski, and her adopted great grandchild, Peyton.
Marjorie graduated from George Washington High School in 1942. She graduated from Strayer Business College and worked for Federal Housing until the birth of her daughter. She loved her hometown and was an active member of the community. She was a member of Beth El Hebrew Congregation and their Sisterhood; the Board of Lady Managers of Inova Alexandria Hospital for 55 years, where she served twice as president; the 1872 Society of Inova Alexandria Hospital; the Alexandria Salvation Army Auxiliary, where she served as president; the Symphony Orchestra League of Alexandria; and the George Washington High School Alumni Association. She enjoyed being included in her daughter Vicki's T.C. Williams High School Class of 1973 functions, since she knew so many members of the class. She was an avid Washington Redskins fan, having season tickets since 1962, and a devoted Alabama Crimson Tide fan.
She loved her life, her family and friends. She was a strong, caring woman of faith. Her family is thankful that she was a beautiful part of their lives, and she will be greatly missed.

A memorial service will be held at Everly-Wheatley on Thursday, Nov. 30 at 12:30 p.m. Interment to follow at Home of Peace Cemetery, 701 S. Payne Street, Alexandria.
In lieu of flowers, memorial contributions may be made to The Board of Lady Managers (Cancer Fund) P.O.Box 16453, Alexandria, VA 22302, Beth El Hebrew Congregation (Endowment Fund) 3830 Seminary Road, Alexandria, VA 22304, or the charity of donor's choice.