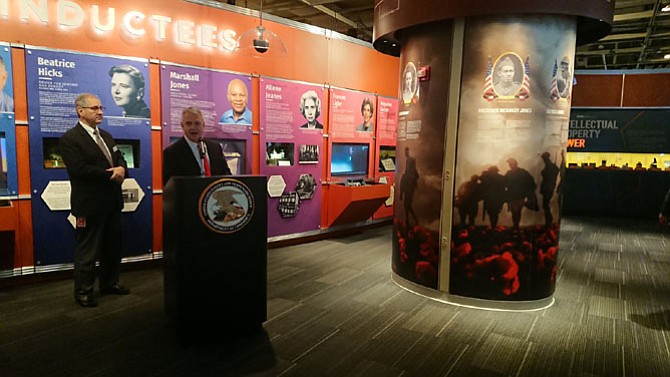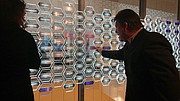 "This exhibit recognizes the vital role veterans have played in the history of innovation and invention." — Fred Steckler, Chief Administrator, U.S. Patent and Trademark Office
In commemoration of the 100th anniversary of the U.S. entrance into World War I, the National Inventors Hall of Fame held a ceremony Nov. 9 to unveil its exhibit honoring inductees who served during The Great War.
"This exhibit recognizes the vital role veterans have played in the history of innovation and invention," said Fred Steckler, chief administrator of the U.S. Patent and Trademark Office and US Navy veteran.
The exhibit showcases five WWI veterans and NIHF inductees and the stories behind their innovations.
Edwin Howard Armstrong was a member of the United States Army Signal Corps when he witnessed a bombing raid in Paris that spurred his desire to develop a better method of pinpointing aircraft. He went on to create wide-band frequency modulation, better known as FM Radio.
Arnold Beckman enlisted in the United States Marine Corps near the end of the war, but as he was set to leave the United States for Europe, Germany signed the armistice that ended WWI. Postwar, Beckman became an inventor and entrepreneur, developing instruments for chemical laboratories. His signature invention, the pH meter, fulfilled an important need for scientists.
Eugene Houdry served in the tank corps of the French Army until he was wounded in 1917 during the battle of Juvincourt, for which he won the Croix de Guerre for heroism. As an inventor, he developed a method for catalytically cracking low-grade crude oil, revolutionizing the production of gasoline.
Frederick McKinley Jones enlisted in the Army when the U.S. entered WWI, one of 200,000 African Americans who served in France. After the war, Jones used his technical skills and developed mobile refrigeration technology that was vital to keeping blood, food and medications fresh during World War II.
Alfred Loomis served as a U.S. Army lieutenant colonel at the Aberdeen Proving Ground during WWI. With the experience gained from working on military technology during the war as background, Loomis designed Long Range Navigation (LORAN), a radio navigation system for marine and flight navigators to determine a vessel's location, along with his other innovations.
"The WWI Visionary Veterans exhibit will be on display for the next year," said NIHF Museum Supervisor Dave Johnson. "It is one of several displays at the museum and the names of all inductees who served in the military are illuminated in blue on the Gallery of Icons."
The National Inventors Hall of Fame and Museum is located at 600 Dulaney St. inside the U.S. Patent and Trademark Office.
For more information, visit www.invent.org.