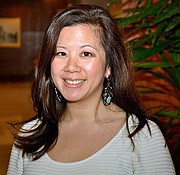 Alexandria's community foundation, ACT for Alexandria, is committed to strengthening the nonprofit sector through investing in building the capacity of nonprofit organizations, connecting donors to causes they care about, and sharing best practices and bright spots in philanthropy. This fall's IMPACT: Innovation + Philanthropy Forum will focus on leading social change without burning out.
Earlier this month, I had the opportunity to attend the Nonprofit Management Institute hosted by the Stanford Social Innovation Review. The conference was applicable on so many levels, for ACT as an organization, for the early care and education systems building work ACT is convening, and on a personal one.
The theme of the conference was "Leading Social Change in Turbulent Times" and we heard from various leaders about how they operate and the challenges they face. One of the key takeaways for me was from Jonathan Greenblatt, CEO of the Anti-Defamation League around, his commitment to observing Shabbat, taking a Sabbath, or just taking a break. Every Friday his office closes at 3 p.m. to observe Shabbat — for him this means no email, social media, phone calls, speaking engagements, travel, etc. and he encourages his staff to use this time for rest, reflection and rejuvenation. He stressed that the social change work we are all doing is a marathon, not a sprint, and we need to take care of ourselves so we can take care of others.
The conference also addressed the leadership challenge and the cost of burnout and employee turnover. It's more than just the financial cost of recruiting, onboarding and paying out leave balances, but also the productivity costs of losing strategic momentum, key relationships and staff morale. This is a topic that Beth Kanter, author of "The Happy Healthy Nonprofit: Strategies for Impact without Burnout" and the keynote speaker for ACT's IMPACT: Innovation + Philanthropy Forum will be addressing on Oct. 26. Beth's keynote on linking well-being to impact is a timely and important conversation our community should be having. What she will be sharing is not only applicable to nonprofit and board leaders, but anyone who wants to lead and support social change. It is exciting for us at ACT to be able to bring important conversations happening on the national stage to the local level — we hope you will join us!
For more information about ACT's IMPACT: Innovation + Philanthropy Forum on Oct. 26 at the George Washington Masonic Memorial, visit: https://actimpact2017.eventbrite.com. Alexandria Gazette Packet readers can use promotional code "AGP" for a discount on registration.
Brandi Yee is the chief program officer at ACT for Alexandria (ACT). Launched in 2004, ACT is a community foundation that seeks to turn ideas into actions and resources into results. Since ACT's founding, 10,000-plus donors have leveraged more than $12 million to benefit important charitable causes in Alexandria and beyond. For more information about ACT, visit: www.actforalexandria.org.