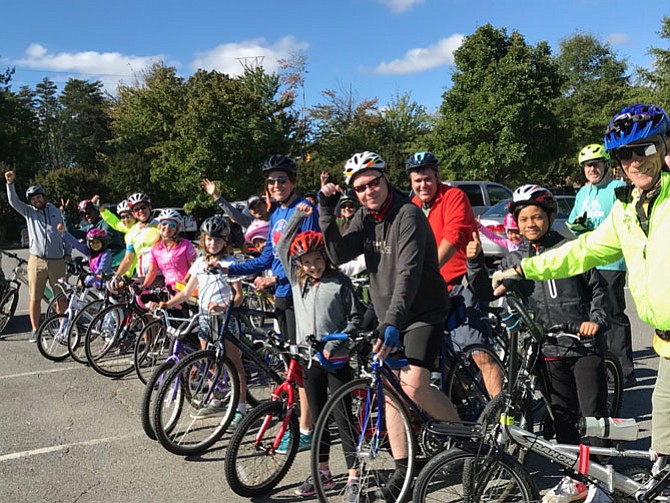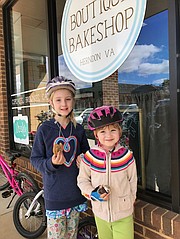 Herndon Parks & Recreation (HPR) produced their inaugural Cupcake Bike Ride on Saturday, Sept. 30. The free event attracted an estimated 20 riders who took part in the four-mile, family-friendly ride set at a casual pace with stops for well-earned treats at local bakeries and businesses.
HPR welcomed riders of all abilities on bikes of all kinds including parents and children on their two-wheeled bikes and parent-supervised children in trailers and trail-a-bikes. Families gathered shortly before 10 a.m. at Haley Smith Park, 814 Van Buren St.
Cindy Roeder, Executive Director of Herndon Parks & Recreation, described how the event originated. "The Cupcake Bike Ride was an idea of a group of avid cyclists who wanted to encourage families to ride together for fun, and for transportation," she said. "This was one way to show families safe routes to delicious shops in town."
Dave Meyers is co-owner of Green Lizard Cycling in Herndon. Meyers was on hand a half hour before the start of the ride. He offered complimentary bike check-ups, inflated low-pressure tires, and made minor bike repairs on the spot so everyone would be ready to ride together safely.
Cathy Jarratt of Herndon attended the event with her two daughters, Ella, 13, and Allison, 9. As final preparations were underway, Jarratt said, "I heard about the Cupcake Bike Ride through Reston Bike Club. We've been trying to get the girls interested in biking, so we mentioned the word 'cupcakes,' and that's all it took."
When all bikes were given the go-ahead, Tom Wyland, a Fairfax County Bicycle and Pedestrian Ambassador led the Cupcake cyclists down the town's sidewalks, trails, and quiet streets. Wyland explained, "Today I'm a volunteer for the Herndon Parks & Recreation Department who is the host of today's ride. Parks & Recreation wanted to get people on their bikes to explore local businesses, trails, and parks in Herndon."
Stop by stop the families followed Wyland on the preplanned route. Bob Evans who is a W & OD Trail Patroller stayed at the rear of the group as the "sweep." He ensured all cyclists found their way to the sweet treats and safely back to the starting point, leaving no one behind.
Over a two-hour period, the group followed the donut-shaped route around Herndon. They stopped for well-earned treats at businesses such as Weird Brothers Coffee, Boutique Bakery, Duck Donuts, and Amphora Bakery.
Sara Russell, 8 1/2, her sister Julia, 5, and parents Dan and Lori pulled up at the Boutique Bakery in Herndon, the final stop on the course. While Sara and Julia ran into the shop, Lori explained she read about the Cupcake Bike Ride in the Connection. The girls quickly came back outside. Each had picked a muffin and a cookie. Julia explained why she made those selections. "When I went to Amphora's, I had my own cupcake, a chocolate Cinderella." Sara interjected: "So here we're having a muffin and chocolate chip cookie."
For more information about upcoming Herndon Parks & Recreation programs and events, including the Homecoming Parade Oct. 14 and the Digital Scavenger Hunt Oct. 21, visit herndon-va.gov/recreation.