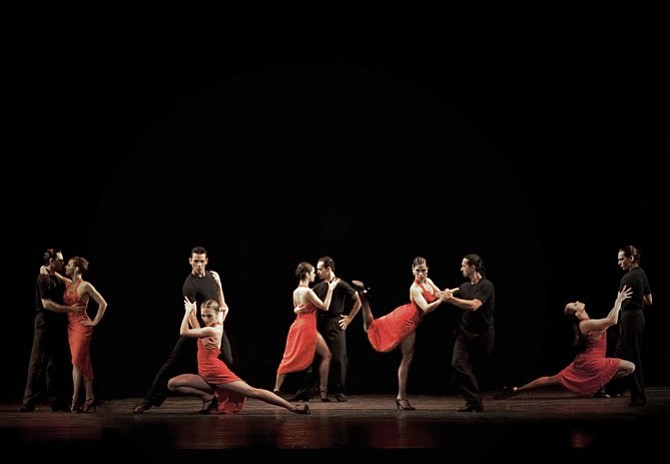 Journey to Argentina right here in your own Northern Virginia backyard. Take
Where and When
"Tango Buenos Aires: the Spirit of Argentina" performing at the George Mason University, Center for the Arts, 4400 University Ave., Fairfax. Performance: Saturday, Oct. 14 at 8 p.m. Tickets are $50, $43 and $30. Call 703-993-2787 or visit http://cfa.gmu.edu">www.cfa.gmu.edu Note: Pre-performance discussion with member of the company. Also free beginners' Tango Class led by instructors from Tango Mercurio starting at 6:30 p.m. on Saturday, Oct. 14. Space is limited and advance registration required. Open to ticket holders for the "Tango Buenos Aires" performance. Registration at cfa.gmu.edu/calen....
in the passion-filled dance and music called the tango. Considered one of Argentina's great cultural arts, "Tango Buenos Aires: The Spirit of Argentina" will be displaying authentic, alluring dance movements fired-up with classic tango music performed live.
"Tango Buenos Aires: The Spirit of Argentina" will focus on the power of the tango to engage performers and audiences alike with its addictive nature. The tango program will trace the evolution of the tango as a dance and cultural style. Patrons will find themselves gazing at "very beautiful dances and a story being told. There are high energy dances, sensual dances, and dances with high kicks and lifts," said Rosario Bauza, artistic director, "Tango Buenos Aires."
On stage will be 10 dancers and a singer, plus musicians performing live music. The music compositions will include works by Carlos Gardel, a central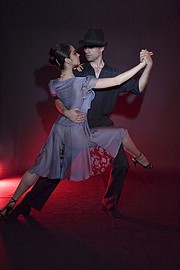 figure in tango history and Astor Piazzolla as well as original music by Fernando Marzan and other composers.
Enjoying a live performance, rather than seeing on a screen either big or small, Bauza hopes the audience will become "happy and joyful as they see our performance."
"We would like the audience to depart our Center for the Arts performance with a desire to visit Argentina and experience tango there also. They will have also learned a little about the life of Carlos Gardel, who is known as the voice of the Tango," said Bauza. "Above all else we hope everyone enjoys 'The Spirit of Argentina.'"
There will be a specially developed feature for the tango dance event at the Center for the Arts that will add audience participation. There will be a free beginners' tango class to those with tickets to "Tango Buenos Aires." The free dance lesson is to start before the Saturday evening performance. There will be instructors from Tango Mercurio, a Northern Virginia dance company and studio. The basics of tango will be taught to those who pre-register. In addition, there will be a pre-performance discussion with members of the performance troupe.
So, come to "Tango Buenos Aires: The Spirit of Argentina" to celebrate Argentina's enduring tango; its ardent music and dramatic moments. Even take the opportunity to learn new dance skills or brush-up on old skills with the free tango lessons being made available.