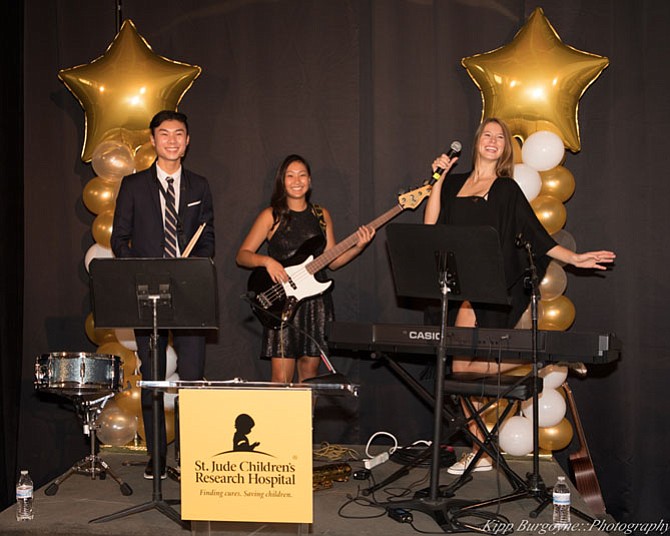 In honor of September's childhood cancer awareness month and its hallmark
color gold, Potomac School senior Amelia Mazloom chaired a committee of 42 teens from high schools across the DMV to plan the Second Annual St. Jude Parent/Teen Golden Gala. The committee raised $134,500 to benefit the children of St. Jude Children's Research Hospital. This beat last years total of $106,000.
The Gala took place at the French Embassy on Saturday, Sept. 16 with a crowd of more than 335 parents and teens. Many of these teens earned their $100 ticket to the event by creating a fundraising page and raising funds and awareness for the cause.
WMZQ DJ, Aly Jacobs, was the emcee, Potomac School senior Parker Gioia was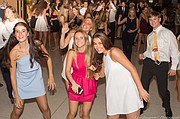 the teen emcee and a variety of talented local teen performers entertained the attendees all evening. Desserts from DC-area favorites such as Olivia Macaron, Nitro's Creamery, Georgetown Cupcake, Lolli and Pops, Cake Love, Le Café Descartes and Chef Deshayes of ITC delighted the attendees with their sweet creations. A silent auction and a live auction with items solicited by the teen committee members also contributed to the success of the evening.
St. Jude patient speaker, Emily, returned to DC again this year from Richmond. Emily expressed her gratitude to St. Jude and its generous donors for giving her the opportunity to celebrate her 17th birthday which took place just three days after the gala. She shared her story about how St. Jude continues to support her even though she is now cancer free. In an interview with Teen Vogue about the SJ Parent/Teen Gala, she said, "I personally think it's really incredible. I think it's good that teens can come together to make something so full of love, and that they can support the life-saving medical care that kids receive at St. Jude. It proves teens can do anything; it's inspiring. I'm so thankful to share my story, especially with kids my age who are working hard to raise money and support St. Jude. This year's Golden Gala committee has grown and I feel like that brings hope to the future."
To get involved in next year's gala, contact alexis.polakoff@stjude.org.
St Jude Children's Research Hospital freely shares all of its research. Treatments invented at St. Jude have helped push the overall childhood cancer survival rate from 20 percent to more than 80 percent since it opened its doors more than 50 years ago. One-third of patients at St. Jude Children's Research Hospital are teenagers, ages 15 to 19. Families at St. Jude never receive bill for treatment, travel, housing or food. Because all a family should worry about is helping their child live.