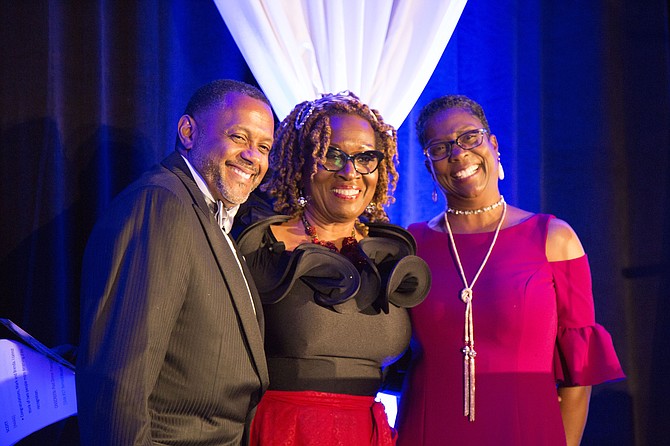 More than $530,000 was raised during the 2017 Raise the Region Gala on Friday, Oct. 6, at the Hilton McLean Tysons Corner hotel to benefit the Community Foundation of Northern Virginia.
Nearly 650 business leaders, philanthropists and community organizers participated in the event to celebrate the charitable work of the foundation and to raise funds to support the less fortunate in the region.
The CFNV comprises donor advised funds, permanent funds, giving circles and other charitable endowments that often fund other organization's work in the region.
"It is an honor for the Community Foundation to support their great work," CFNV President and CEO Eileen Ellsworth said during her speech. "I say that we're all in this together and a part of something much bigger than ourselves."
In 2017, the foundation awarded more than $4.7 million in grants and scholarships and reported $47 million in managed philanthropic assets.
"That was a record," Ellsworth said.
AT $300 A TICKET, gala goers were served steak dinners and were invited to bid for a plethora of items during a silent auction with items in the following categories: Restaurant Row, beer, wine and spirits, sports, golf and fitness, date night, family fun, pamper and polish, home, memorabilia and luxury — all to benefit the CFNV. Items ranged from $25 to thousands of dollars.
Gala goers also had a chance to open their wallets in the name of charity during a live auction and raffle, where luxury car rentals and vacations were offered to the highest bidders.
Donations were also accepted during a call for attendees to "Stand Up and Pledge."
The silent auction raised more than $57,000; live auction nearly $50,000; raffle around $10,000; pledge donations around $48,000; with tickets and sponsorships accounting for the remainder, according to Tara Nadel, a spokesperson for the CFNV.
The money raised during the event will be needed for what the foundation has planned for next year, its 40th anniversary.
In honor of this milestone, Ellsworth announced during the gala the launch of a new endowment that would triple the foundation's capacity to respond to local need.
"We call it the Permanent Fund for Northern Virginia, and it is a permanent community endowment that will forever source critical support for our most vulnerable neighbors," she said.
Since the CFNV started raising funds in January, the endowment stands at $4.6 million, according to Ellsworth. The foundation will need to raise $2.4 more to reach its goal of $7 million.
The grand finale of the evening was the foundation's presentation of the 2017 Community Leadership Award to Mark and Brenda Moore of the Mark and Brenda Moore Family Foundation. The award is presented annually for outstanding commitment and dedication to improving the quality of life for all Northern Virginians.
The Mark and Brenda Moore Family Foundation was started to financially support causes that are dear to their hearts, including healthcare, education, music and the arts.
"Wow, we are just overwhelmed," Brenda said after she and her husband were called up to the stage. "You have filled our hearts with great, great joy. We are totally blessed and grateful to receive this honor. It is a wonderful culmination to an exceptional event. We feel that each of you can celebrate with us and help 'Raise the Region.'"
Mark quoted Martin Luther King Jr.: "Our lives begin to end the day we become silent about things that matter."
He concluded that what matters is assisting and uplifting those in our midst who are underserved and under-resourced.
THE MOORES ARE DONORS to Inova Health System and built the Mark and Brenda Moore Patient Tower at the Inova Mount Vernon Hospital in Alexandria, where Mark was treated for a stroke in 2007. It opened in December 2014 with all private rooms and state-of-the-art facilities for rehabilitation and joint replacement. In addition to being the lead donors on that project, they also sponsored two galas that raised $4 million and sit on the board of the healthcare system's foundation and the Patient Experience Advisory Committee.
Mark published a memoir, "A Stroke of Faith: A Stroke Survivor's Story of a Second Chance at Living a Life of Significance," about his experience in April with the help of contributor Andy Butcher.
Additionally, the Moores support the Posse Foundation, which awards four-year, full-tuition scholarships to minority students, and sit on the board of Alexandria-based Hopkins House Early Childhood Learning Center. They are founding donors of the Smithsonian's National Museum of African American History and Culture, as well as supporters of the Alvin Ailey American Dance Theatre.