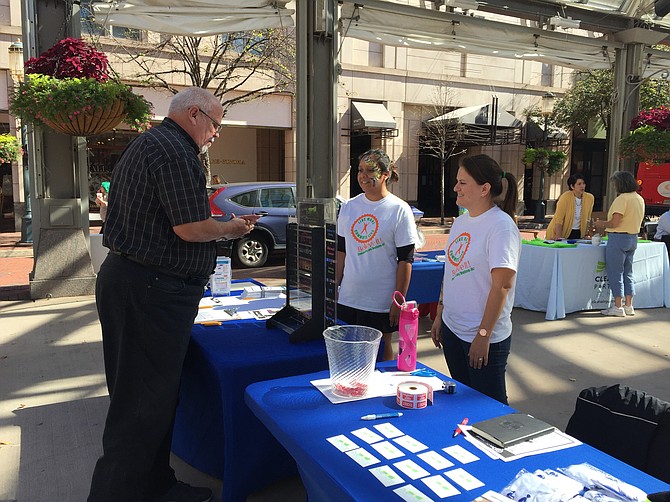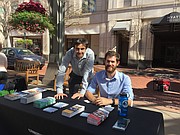 Nothing is more frustrating than planning a trip downtown, only to sit in bumper to bumper traffic on I-66. This Wednesday, Reston Town Center hosted the Dulles Area Transportation Association's (DATA) Live More Commute Less Block Party. Marcus Moore, of DATA, said that congestion in the greater D.C. area is affecting productivity and pollution in the region. More and more companies and people are looking for rideshares, carpools, and metro access for a better way to commute.
This year the Live More Block Party helped commuters connect with online platforms and companies that offer alternative forms of travel. Nuride, Commuter Connections, TeleworkVa, Enterprise, Bustracker, Transit Benefits and Mobile Work Exchange were just some of the companies represented.
Gwen Gonzalez of Loudoun said how frustrated she was with her commute. She wanted to relax on her way to work instead of arriving stressed out. Nuride, a ridesharing app, was able show Gonzalez commuters in her neighborhood that carpooled along her route. Nuride also broke down the miles not driven and the carbon emissions Gonzalez would be able to prevent by carpooling.
RIDESHARING HAS GROWN over the years but there is still a concern over safety and efficiency. Commuter Connections of Washington, D.C, shared 10 tips on successful carpooling. Among them were "no beeping outside the house and whether food and drink should be permitted in the car." Commuter Connections, like Nuride, can use their database to link you to ridesharing partners with similar commutes.
Another solution for green riding is vanpooling. Dayna Paskiet of Alexandria shared how her customers need to travel "15, 20 or even 40 miles out" to work, which sets Enterprise apart from other rideshares.
For workers that cannot afford a car, the bus can sometimes be their only means of transportation. Fairfax Bus Tracker is an app designed to display up to the minute bus arrival times. Karla Nativi of Fairfax said that Northern Virginia is home to many that could really use this app.
Yet whether someone wants to avoid the traffic or cut down on their carbon footprint these alternative forms of transportation are steps to a greener future.