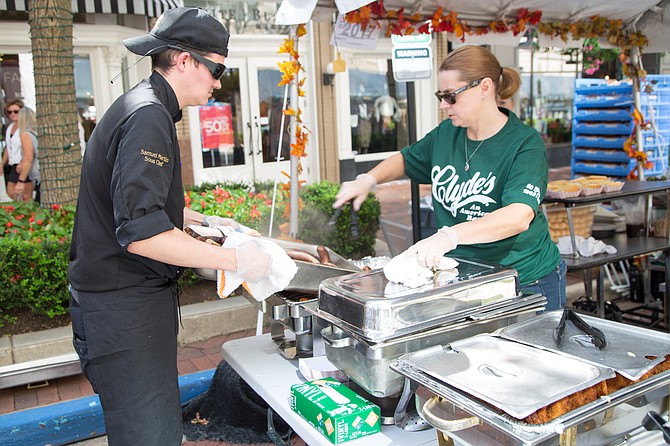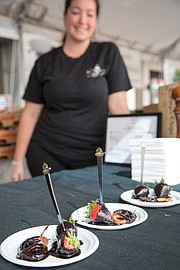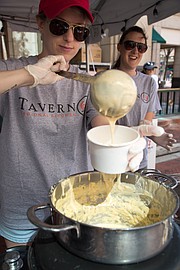 Saturday was the Taste of Fall Festival in Reston Town Center. The festival that was to replace the traditional Oktoberfest activities centered around food and family fun. Many local businesses were also scattered throughout the food tents as the festival lasted two days Oct. 7 to 8.
The event was sponsored by the Greater Reston Chamber of Commerce and tickets were used to purchase beer and food items from the various tents featuring area restaurants. The cuisine was a mixture of different cultures and restaurant styles as the booths competed for patrons' taste buds.
Tim Bankert, a sous-chef with the Barcelona Wine Bar was making Paella, a traditional Spanish rice dish in a huge round cooking pan. He has been cooking for 13 years.
"I think it's great for the community to help get our name out there. I cook at a Spanish tapas restaurant. We regularly serve small, sharable plates," said Bankert.
Sydney Anderson, volunteer with the Reston Serenity Smiles was also present with dentist, Hoda Kazemifar, a McLean resident. "The festival is awesome, we come to this one and a Taste of Reston every year. We get to meet lots of people and take part in the community," she said.
Sam Martin, sous-chef at Clyde's of Reston was making German-style bratwurst on an open charcoal grill.
"Schnitzel and pork are the most popular items so far," he said. "We are also serving brats, beer braised sauerkraut, spätzle and pork schnitzel with mushroom gravy. For dessert there is oatmeal pie with whipped cream."
Even organic restaurants like Green Fare were at the festival, suggesting healthier options to customers.
Pericles Silva, manager of Green Fare in Herndon, a certified organic restaurant was more than pleased to comment on the festival as this was his seventh year attending.

"They changed the name from Oktoberfest, but it's great. We get a lot of families with kids, and it's not only about drinking and food it's about enjoying the fall. It's a beautiful day, and the best one for this festival in seven years!" he said.
"The taste of the fall festival is a great way to taste everything Reston has to offer this time of the year. Great people work the event, it's a great time and it's a good opportunity to give Reston Town Center a little more publicity as well," said Steve Webb, bartender at Craft House at Reston Town Center.