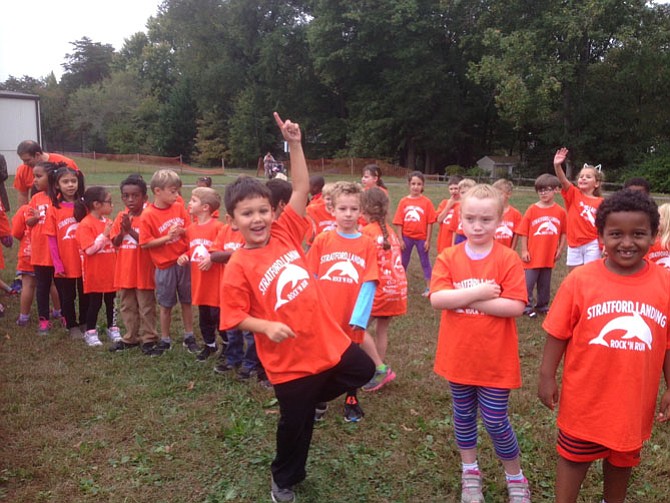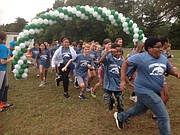 Sixth grader Aidan Casto has run in Stratford Landing Elementary School's "Rock 'n' Run" since he started at the school as a kindergartner, so running over 20 laps around the course with fellow sixth graders in the school's biggest fundraiser was no big deal. "It's something besides recess and PE," Aidan said.
There he was, running around a track for 30 minutes with his classmates as teachers and parents cheered them on, and the "Rocky" movie theme song blared out of speakers in the field. All morning on Friday, Oct. 13, all 825 students came out in their allotted time and ran the course, earning pledge money for the school to fund special projects and curriculum items that otherwise would go unfunded. The students were getting a workout and having fun, and so were the parents.
Stephanie Fultz gave her son Jack the high-five as he went around, "and killing it," she said.
Meredith Romley had her twin third graders, Evelyn and Silvia, to cheer on, and their race preparations started the night before. "Last night we had a big pasta dinner to get them ready for it," Romley said.
Not only was it a fundraiser and exercise opportunity, Brook Aljilani noted that "it gets their class spirit going," she said.
Local businesses contributed, and according to the amount, got in various levels of sponsorship starting with the platinum, which donated $1,000, then gold at $500, silver was $250 and bronze at $100. The PTA was in charge of the fundraising program, and at 9 a.m. that morning, the amount they had raised was $55,131. Sponsorships cover the cost of Rock 'n' Run so that all other money raised goes directly to school needs. The planning for this annual event started in the summer.
Holly Ferry, who had a kindergartener and fourth grader in the run, was a silver sponsor from her home-based embroidering company "The Monogrammed Monkey." She has an embroidering machine that "is like a sewing machine on steroids," she said.
Donna Peterson donned a wig and pom poms, dancing on the sidelines as she had for the event in years past. "It's awesome, I can skip the gym," she said.