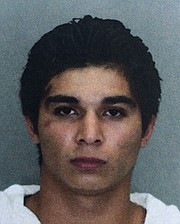 The public defender representing Darwin Martinez Torres who has been charged and indicted in the murder of Muslim teen Nabra Hassanen, 17, of Reston, was excused from the commonwealth's criminal trial by the Fairfax County Circuit Court on Thursday, Oct. 19.
After the original second degree murder charge was elevated to capital murder, Torres' former lawyer, Dawn Butorac, the chief public defender with the Fairfax County Public Defender's Office, asked the court to be excused. Chief Judge Bruce White granted the motion on the grounds that criminal defendants have the right to effective counsel.
Instead, legal representation with experience in capital murder trials will be provided to Torres by the Capital Defender Offices of the Indigent Defense Commission.
"He will get a group of lawyers who are qualified," said Raymond Morrogh, the Fairfax County Commonwealth's Attorney, who is prosecuting the case and pursuing the death penalty.
Torres, who is a citizen of El Salvador living in Sterling without legal permission, was originally arrested on a second-degree murder charge in June, which means the alleged murder was not treated as premeditated.
However, the charge was elevated past first-degree murder, which is the willful, deliberate and premeditated killing of any person, to capital murder, which — in this case — is the willful, deliberate and premeditated killing of any person in the commission of abduction, rape and sexual assault.
On Monday, Oct. 16, a Fairfax County grand jury indicted Torres on eight separate counts of capital murder, rape, sexual assault and abduction.
Torres "did feloniously, willfully, deliberately and with premeditation kill and murder Nabra Hassenen," the indictment said.
"The penalties on the four capital murder charges are either life or death," Morrogh told the Connection via email. "The penalties on the other charges are as follows: rape is from five years to life; abduction with the intent to defile is from 20 years to life; and on each of the two counts of animate object penetration the penalty is five years to life."
The next hearing for the case will be at the Fairfax County Circuit Court at 9:30 a.m. on Friday, Nov. 17. A trial date will be discussed during this hearing.