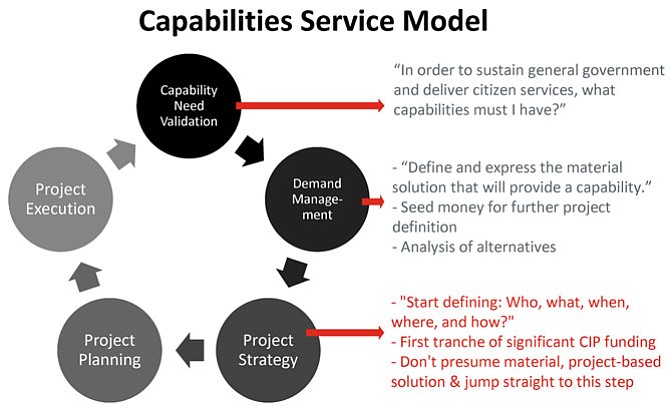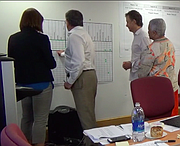 The clock is running out for public input before a "blue ribbon" task force delivers Capital Improvement Program (CIP) recommendations to the City Council and School Board.
The Ad Hoc Joint City-Schools Facility Investment Task Force will present its first of two deliverables: a recommended CIP prioritizing 28 specified city and public school facility projects. These projects represent nearly two-thirds of a billion dollars of investment through FY27, currently underfunded by some $106 million. Council and the School Board will hear the Task Force's recommendation to optimize the city-and-schools' collective spending Nov. 4 and Nov. 9. The public may attend these meetings, as well as offer final preliminary comment at the Task Force's Nov. 2 plenary meeting. The schools' superintendent will present her proposed FY19-28 CIP Nov. 30.
The schools in particular have frontloaded projects, outpacing funding over the CIP's 10-year scope. The Task Force has been sifting projects according to their need and relative urgency, readiness and overall value to Alexandria, and then pushing lower scoring projects to later years. Some members believe certain projects, however urgent, have not been adequately and transparently vetted in order to proceed immediately. These include converting a recreation center for school "swing space;" a new high school; vehicle maintenance facility overhauls; and beefing up city pools. Such projects might benefit from additional "seed money" to explore more options.
"It is inherent in public organizations … to spend money that is in budgets," said Task Force member Elliot Branch. "So if we put that money there, that money will get executed. Whether it's well executed or not, it will get executed. And that's a problem." He added later: "Have you ever tried to kill a project inside a government? … They're like zombies. So I'm very careful about when I say … that project really ought to go [forward]."
Next, the task force will turn its full attention to its second deliverable, due in December: suggesting improvements to overall capital planning and implementation processes.
"This is a problem that will not go away," said Branch. "We can solve this problem in this CIP, and when I'm retired playing golf in 10 years there will be another nine people sitting around the table doing the same kind of prioritization if we don't fix the process."
Some recommendations the Task Force has been honing so far include:
Systemic Perspective: CIP decisions should include "the whole portfolio: schools, city, [Information Technology], highways, parks, facilities, etc. — all of that," said Task Force member Eric Wagner. "We're way compartmentalized on this," he reiterated later. Similarly, Task Force member Dwight Dunton thinks government players work "in their silos" on the "perfect solution" rather than the "good-enough solution." For example, Alexandria's educational specifications include "everything under the sun," but without reference to cost. Citizens may interpret anything less than "the perfect prototype" as a "cut" rather than a "bonus" on top of a more moderate baseline. Good-enough could open up funds for additional investment "in the context of the entire city." The task force can serve as "a giant spotlight" on the city's currently crowded out needs.

Outcomes not Outputs: "Governments deliver capabilities to citizens; they don't deliver projects," Branch has said repeatedly. Nevertheless, he discerns a "bias" toward project-based solutions. For example, the city needs the capability "to maintain rolling stock," but not necessarily fleet maintenance facilities. The city should investigate consolidating with the schools' nearby maintenance facilities or outsourcing to a private company. The school system's 2007 efficiency review from Virginia Department of Education recommended the former. That the city has not already explored the possibility is "just insane," said Branch. Dunton says outsourcing can actually improve accountability because "it's easier to fire a contractor than it is an employee."

Alternatives Analysis: "Go look at all potential alternatives; don't take anything off the table until factors eliminate themselves. And finance that," said Branch. Ample exploratory financing — "seed money" — could save in the long run. For example, some members think three existing schools have sufficient adjacent space on which to build new schools without moving students. This could obviate the $42 million expense of converting a rec center for swing space. But, as it stands, the schools' don't have the money to research those alternatives, said Michael Herbstman, the schools' CFO. Governing bodies also need to consider alternatives' long-term ramifications. The school system initially considered building a new school for use as interim swing space before transitioning to its permanent use — a cost-saving option the Task Force favors. Though it would have cost more up front — $55 million — this alternative also would have obviated rec center conversion. The schools opted for the rec center conversion because the city's appropriation wouldn't cover a new school, said Herbstman. "Short-term savings versus long-term savings," Task Force member Amy Liu said, and then laughed out loud. Lastly, projects should not advance without satisfying conditions in sequential phases of planning, in some cases requiring earlier oversight by elected bodies. More sequential planning would "give leadership the opportunity to kill things," said Branch.

Nimbleness and Flexibility: Dunton believes the city's capital investment suffers from "self-imposed," onerous restrictions — for example, those preventing the school system from building new schools on public open space. "At the stroke of a pen to change zoning restrictions, we could save tens of millions of dollars, possibly," he said. Too narrow requirements also cause projects to languish. While "you have to give to get … we haven't been willing to give on anything … to move these projects forward," he said. For example, the city could unload the Torpedo Factory — its "single most valuable piece of property" and an "opportunity cost," said Task Force member Dave Millard. But potential offers have fizzled because the city will not entertain any use other than as an arts center. Dunton warns further that Alexandria's difficult development practices repulse private capital. His development company owns half a billion dollars of property elsewhere in Virginia, but only one property in Alexandria, "because time and attention get much higher return in other places."

Consolidated Planning and Operation: City-schools interaction has lacked sufficient "structure … for a CIP of this scope and complexity," said Branch. "But it's one pot of money," said Wagner. The city and schools need some kind of "formalized … 'joint capital planning implementation work group.'" Task Force member Lynn Hampton suggested that "consolidating into one [maintenance] agency" might also improve efficiency. For comparison, Prince William County has a Joint County/School Capital Process Team. Charlottesville's Facilities Maintenance division oversees maintenance, repairs and operations for both city and school buildings. Hampton's Procurement Office handles bids and goods and service contracts for both the city and schools.