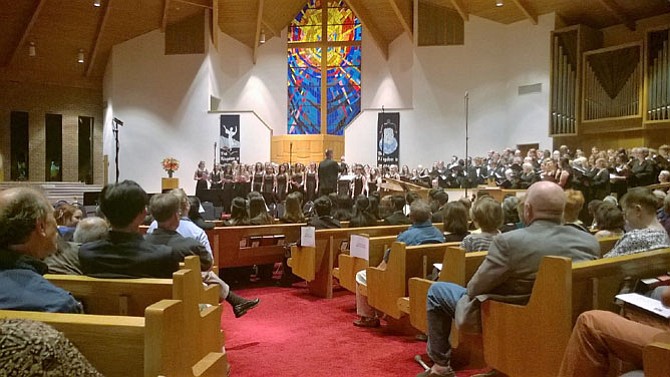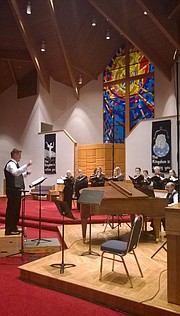 "Doors opening," is the cheerful chime heard several times a day by thousands of commuters in the District, Maryland and Virginia — including Vienna Choral Society executive director Sohini Baliga as she speaks on her smartphone while exiting a Metrorail train during rush hour on a Tuesday afternoon Oct. 17.
She tries to explain her chorus will teach listeners Saturday how to pay less attention to ordinary background noise of the daily grind and tune their ears into the sounds of nature at their new concert "Surround Sound" Oct. 21 in the Vienna Baptist Church at 541 Marshall Rd., S.W.
The concert was a sanctuary from the cacophony a city at work makes every day — from the jarring staccato of jack hammers and other construction equipment, loud engines of buses and delivery trucks to the alarms of first responder vehicles.
"I picked music that made me think of nature and sound," said VCS artistic and music director Mike Horanski as he introduced his second song "Adiemus" by Welsh composer Karl Jenkins.
Horanski told audience members they may recognize the tune from a 1990s television commercial for Delta Airlines. The ad campaign featured commercial jets flying in formation from Europe to the United States in a fashion that simulated the synchronized swimming of dolphins at high speed underwater before these sleek sea creatures burst through the surface of the water and fly through the air.
THE SOFT CLASSICAL VOCALS of this title song, combined with tribal notes and ethnic drumming gradually increase in volume. If hope has a sound, it is this particular work from Jenkins' 1995 album "Adiemus: Songs of Sanctuary."
Some passengers waiting for the commuter train are attuned to the whirling noise it makes as the rail cars breeze through an underground tunnel. "Step back to allow customers to exit," continues the melodic message of Metrorail.
"When boarding, please move to the center of the car." As pleasant as this familiar voice sounds, Baliga says her chorus is not making music out of urban noise.
Instead of an eye-opening experience, the Vienna Choral Society offers an "ear-opening" experience to listeners. She describes the performance as modern with traditional roots. The program features works by various international composers.
The circular sanctuary at Vienna Baptist Church provided the perfect environment for "Surround Sound." The high ceilings made of wood helped project the sound of VCS and their guest artists from the James Madison High School chorus and chamber orchestra.
"You don't have to be Julie Andrews on a mountain top," Baliga said and adds "the world around us is alive with music and art."
"You have to know how to hear it," she said. "You have to know how to look for it."
The Saturday concert kicked off the choir's 30th season. "It's a major milestone for a small group that started out in a church basement and hoped to have a total of 30 singers someday," Baliga says in her press release.
Her ensemble boasts more than 100 singers today and is a teaching choir for youth and emerging musicians — guided by the group's slogan "raising voices, raising spirits." They were outnumbered by the Vienna high school students — led by choral director Claire Rowan and orchestra conductor Erin Eberly.
Eberly said her students played two bass violins, four violas, six cellos and 20 violins. Rowan brought her madrigals and select singers to the concert. Both music teachers have worked at Madison for more than a decade.
"We have the best gig in the world," said Rowan.
The Virginia Choral Society is "where the next generation of music lovers and music professionals will find their place and polish their craft," Baliga said.
So it is for audience members, who helped make music at the "Surround Sound" concert following another Jenkins choral work with arrhythmic syllables called "Rain Dance."
Horanski quickly instructed everyone in the sanctuary to rub their hands together, snap their fingers, pat their thighs as some of the performers jumped — in order to create the sound droplets, steady rain and thunder make in a rainforest as a transition to the next song "Tres Cantos Nativos Dos Indios Krao," arranged by Marcos Leite.
"Step back, doors closing." The artists at VCS and Madison High took their audience on a different trip to hear the music that still exists in our everyday lives.
Horanski believes one of the most beautiful sounds of nature is made by trees.
Although most people listen to leaves rustling in the wind, he notices "the creaking noises of the branches as they move back and forth," Horanski said during his introduction to a song with harmonious melodies called "The Tree."
Under his artistic leadership Baliga says VCS saw its largest audiences last year, "complete with standing ovations."
The "Surround Sound" concert ended on a positive note with "Turn the World Around" by Harry Belafonte and Robert Freedman, which made a reporter whistle the catchy tune as she walked through the church parking lot.
THE VIENNA CHORAL SOCIETY performs again Dec. 16 at 4:30 p.m. in the Annandale United Methodist Church at 6935 Columbia Pike. Their holiday concert "Sounds of the Season: Rutter's Gloria" features guest artists from Oakton High School. Admission is $25 for adults. Discounts apply to seniors and teenagers, who pay $20 each. Children 14 years and younger get in free with a paying ticket holder. Tickets are available online at www.viennachoralsociety.org.