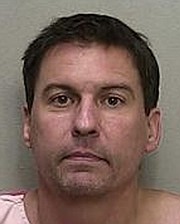 Jude Joseph David Lovchik, 49, is in police custody for charges in connection with an alleged sexual assault of four women that occurred in Reston back on June 6, 1995, according to the Fairfax County Police Department.
Detectives believe Lovchik sexually assaulted the women in an apartment in the 11000 block of Olde Tiverton Circle in Reston in the early morning hours of that day in 1995. On Aug. 25, DNA evidence was furnished to lead the FCPD detectives to identify Lovchik as the suspect.
"Crimes like this are not common in Fairfax County, but this shows the dedication and determination of our agency to bring justice for these victims," Maj. Richard Perez of the FCPD Major Crimes Bureau said in a press release.
Detectives with the FCPD Major Crimes Bureau and police officers from the Ocala Police Department in Florida arrested Lovchik after a traffic stop near his home in Ocala last Wednesday morning, Oct. 25, according to the FCPD.
Until September, Lovchik lived in the 7200 block of Linden Tree Lane in Springfield, according to police. He is being held at the Marion County Jail in Florida awaiting extradition to Fairfax County, according to the FCPD.
"The team of men and women who have been working this case have put in a tremendous amount of work," Capt. David Smith of the FCPD Major Crimes Bureau said in a press release. "As a result of their dedication, we have taken this predator off the street."
Once Lovchik is extradited back to Fairfax County, he will be charged with being a fugitive, armed burglary, abduction with intent to defile and sodomy, according to the FCPD. The FCPD also anticipates additional charges to be filed.
The FCPD Victim Services Section is working with the victims, according to police. Anyone who may have additional information about Lovchik, including other potential victims, may call the FCPD at 703-246-4623.