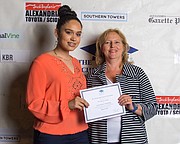 As kids across Alexandria prepare to head back to school, many fortunate and talented students across the city are packing up and heading off to college. We should think ahead so that next year all those with the drive, determination and scholastic ability to attend college are not left behind simply because they cannot afford it.
The Scholarship Fund of Alexandria works tirelessly to make sure college is affordable and accessible for all Alexandria students. I know this because I've been on the Board of the Fund since 2013. My wife Libby and I have been contributors for about 20 years, beginning when we sent the first of our three children to T.C. Williams. Over the past 30 years, thanks to the generosity of past and current members of the Alexandria community, the Fund has helped send more than 4,500 Alexandria students with financial need to college and awarded more than $13.5 million in scholarships to T.C. Williams students who might not otherwise have a chance at college. Importantly, the Fund now also provides comprehensive financial aid advising for students to help them access any-and-all additional private and institutional aid available to help them pay for college.
If you already are a supporter of the Scholarship Fund of Alexandria, or you are looking for a new way to make Alexandria a better community, there has simply never been a better time to support the Fund. The Scholarship Fund of Alexandria has recently been chosen by the Commonwealth of Virginia to receive select Tax Credit Status. We are one of only 70 educational organizations statewide to receive this designation.
As an approved charity under the Virginia Neighborhood Assistance Program, we can now offer our supporters a 65 percent tax credit for your contribution on your Virginia state income tax return — which when coupled with standard federal deductions for your contribution, in some circumstances, can add up to over 80 percent after-tax return on your investment in our children. Remember that tax credits are different than deductions. Tax credits result in a dollar-for-dollar reduction in your actual tax bill. In a few cases, our new tax credit status can even result in zero-cost charitable giving, and the credits may in fact save you more in taxes than the amount of your gift. For instance, the tax credits are applicable to donations of stock and appreciable assets and can allow you to fully eliminate capital gains taxes.
The credits are in limited supply and will be given on a first-come, first-served basis throughout the fall for use on your tax return next spring. Please contact the fund today at scholarshipfund@acps.k12.va.us or 703-824-6730. Our team will be happy to provide you with the necessary information to make the Neighborhood Assistance Program (NAP) tax credit process quick and easy.
Most importantly, however, giving money to the Scholarship Fund is the right thing to do. If you have ever gone to the Awards night and seen more than 150 students walk across the stage, you've seen the smiles on the faces of both the recipients and the scholarship contributors. The montage of diverse student faces and the many and varied life stories of the students receiving scholarships is amazing and inspiring.
With the cost of higher education continuing to rise exponentially, need-based scholarships become more important to more and more families. T.C. Williams has a significant number of bright, deserving and ambitious students from low-income families. The need for scholarships in this community has never been greater. Just one college scholarship can make a difference in the stability and financial independence of an Alexandrian child and their family, maybe for generations. We have an opportunity to improve our community one student and one family at a time.
Thank you for joining Libby and I, and many other Alexandrians, to support the efforts of the Scholarship Fund of Alexandria in changing lives forever.