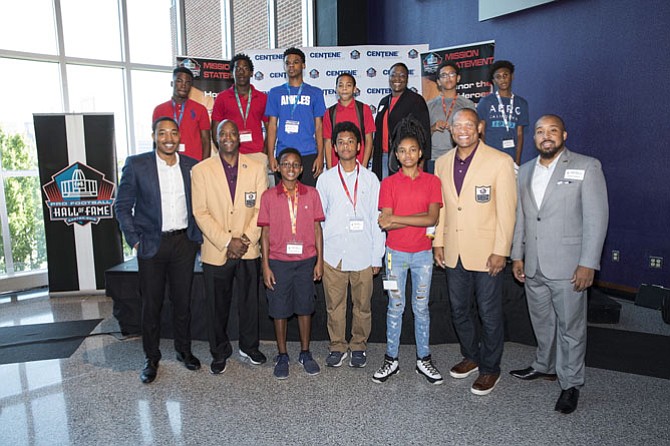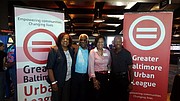 The Northern Virginia Urban League (NVUL) participated as a convening partner for the Strong Youth, Strong Communities (SYSC) Youth Summit on Saturday, Aug. 19, at the M&T Bank Stadium in Baltimore. More than 400 youth, ages 13-18, and community partners were in attendance. Other convening partners included the Greater Baltimore Urban League and the Greater Washington Urban League.
The SYSC initiative is led by the Pro Football Hall of Fame, CENTENE Corporation, and Envolve. It seeks to equip youth with life skills, resources, and leadership-focused engagement to unlock potential; promote active thinking and sound judgment; and connect students with adult leaders and mentors committed to developing youth leaders.
The free SYSC Youth Summit allowed students an opportunity to provide their perspectives for building stronger communities and chat about issues that were important to them by participating in interactive breakout sessions with Pro Football Hall of Famers Darrell Green and Aeneas Williams. Green and Williams also shared real-life experiences that led to their success on and off the football field. A basic vision screening was also made available to attendees with glasses being mailed within three weeks to those needing corrected vision.
Local community organizations that participated in the Youth Summit via the outreach efforts of the Northern Virginia Urban League included: 100 Black Men of Greater Washington, D.C.; Jack & Jill of America, Inc.; Mount Zion Baptist Church, Arlington; Shiloh Baptist Church, Alexandria; and members of the T.C. Williams High School Titans Football Team.
"Because of the huge investment of time and resources made by corporate partners and Pro Football Hall of Famers Green and Williams for the Youth Summit, lives of youth in our community were impacted and life-long lessons were learned about character, leadership, work ethic, and how to achieve and have success on the field of life," said Lavern Chatman, director, Fund Development, NVUL.
For more information about the Northern Virginia Urban League, visit www.nvul.org