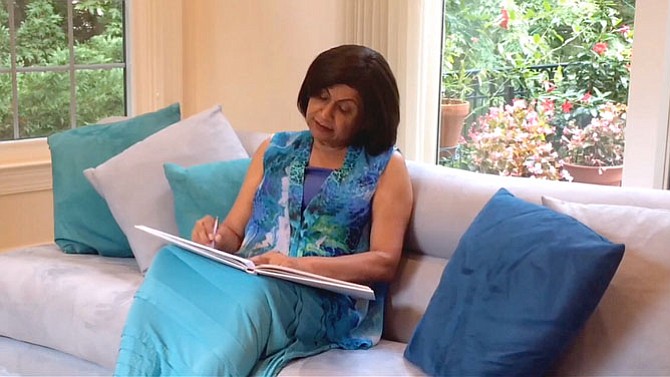 Saturday's performance of "Symphony of the Bells" will be a first for Potomac artist Nimi Trehan: it will be the first time she paints during a poetry reading.
The performance is based on the poetry of Satya Palaparty, focused on nature and feminism, Trehan said.
"It is very interactive," Trehan said. "A lot of artists are doing installations but I think this is much more than an installation. It involves all the senses."
In addition to the poetry reading, there will be dancing and music. Trehan said she will do her painting during the reading of two poems from Palaparty's collection.
To prepare she said she has immersed herself in the works: "The Girl" and "Bride at Age 11"
"It's very emotional, it brings out many things you don't think about," she said. "Especially the child brides, they never had a life."
Trehan grew up in India and graduated with a Bachelor of Arts in interior design from the Women's Polytechnic Institute. She worked as an interior designer in India and after moving to the United States.
Nine years ago, she retired to devote her time fully to her art work. About 18 months ago, she was invited to do a portrait of Indira Gandhi to be used in a play about the former prime minister of India.
"That was different," she said. "I painted it at home and took it to the performance."
Because of that though she was invited to be part of Saturday's artistic collaboration. It is being produced by D.C. based arts organization, Spilling Ink, a multi arts organization with a mission to create and perform arts of India and the diaspora in hopes of deepening audience understanding of India's artistic contributions in the United States and around the world, according to its website.
The performance will be held at 7 p.m. Saturday, Sept. 9 at First Congregational United Church of Christ, 945 G St. NW, Washington, D.C. Tickets are $30, which includes a signed copy of "Symphony of the Bells" or $20 for general admission. To purchase tickets, visit www.spillingink.org.